United States of America New Years Eve 2017
Fireworks, Events, Webcams, Parties, Hotels, Restaurants, Concerts
31 December 2016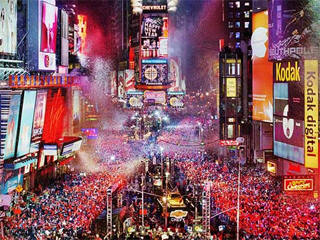 In the United States, New Year's Eve is celebrated with formal parties and family-oriented activities. Celebrations often center on dropping or raising an item during the countdown, especially on the East coast. New Year's Day is a public holiday in the United States.
Since 1907, the "ball drop" in New York City's Times Square has been a major component of the New Year's Eve celebration, and it has been seen by nearly a million people every year. Dick Clark's New Year's Rockin' Eve, broadcast on ABC, debuted in 1972. Dick Clark hosted and produced the show every year from 1972 to 2011. In 2009, the show was renamed Dick Clark's New Year's Rockin' Eve with Ryan Seacrest with Ryan Seacrest sharing presenting duties. In 1999, the show was integrated into ABC 2000 Today, with Dick Clark and Jack Ford reporting during the broadcast, and Peter Jennings anchoring the events of the millennium celebrations in the United States and around the world. Dick Clark sadly passed away in 2012, but the show continued, still bearing his name in tribute.
New Year Fireworks, Events, Parties
GMT-5
Akron, Alexandria, Atlanta, Atlantic City, Baltimore, Boston, Burlington, Charlotte, Cincinnati, Cleveland, Columbus, Detroit, Dick Clark's NYRE, Indianapolis, Jacksonville, Key West, Florida Keys, Louisville, Miami, New York, Orlando, Philadelphia, Pittsburgh, Raleigh, Tampa Bay, Virginia Beach, Virginia, Washington DC, Walt Disney World
GMT-6
Austin, Chicago, Dallas, Houston, Kansas City, Memphis, Milwaukee, Minneapolis, Nashville, New Orleans, Oklahoma City, San Antonio, St. Louis
GMT-7
Denver, Phoenix, Arizona, Salt Lake City, Vail, Colorado
GMT-8
Disneyland California, Hollywood, Las Vegas, Los Angeles, Portland, Reno, Sacramento, San Diego, San Francisco, San Jose, Seattle
GMT-10
Reviews & Sharing
The content on this page is written and maintained by Martin Kerrigan. If you have found it useful then please feel free to share it with your friends and family. If you have any comments or events to add to this page please Contact us.
We're always interested in hearing comments and feedback from anyone who has attended these events, or if you have any information or updates that might be useful for us to add to the page then please Contact us