Indianapolis New Years Eve 2018
Fireworks, Events, Parties, Hotels, Restaurants, Concerts
Indianapolis, Indiana, 31 December 2017, Midnight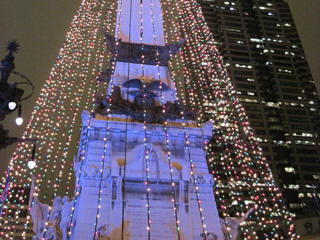 So I was looking at the list of US State Capitals that I hadn't yet included on the site to see if there were any really glaringly obvious ones that I has missed out (don't want to be accused of favouritism, although I have to warn if you're a resident of Bismarck it might be a longer wait...) and there was Indianapolis.
I was of course familiar with the city from the Indy 500, which I'm a big fan of, but I hadn't previously realised what a big city this actually is, with over 1.5 million people in the metropolitan area! That sounds like the kind of city that will be holding some decent sized new year's eve events, so let's see what we've managed to track down...
New Year Fireworks, Events, Parties
Indianapolis has for this new year's eve announced a city-wide celebration, hosted on Georgia Street. Downtown Indy's New Year's Eve party is this year brought to you by the Indiana Union Construction Industry and includes loads of food and drink offerings and live music. there is also the chance to escape the cold by heading into the Hoosier Lottery Countdown Pavilion in Bankers Life Fieldhouse, where there will be live music and a range of activities for all the family.
In place of a ball drop Indianapolis offers the more fitting IndyCar drop, actually technically being termed the IndyCar descent, with a specially suspended car descending from above the crowd at midnight to great fanfare and fireworks. get more details on the Downtown Indy new year events here.
A very popular location during the holiday season looks to be the city's Monument Circle, where the iconic Soldiers & Sailors Monument is located. Throughout the holiday season this is the site of the Indy Circle of Lights, the annual centrepiece of the downtown festivities, with the monument decorated with a 250 foot high display featuring over 5000 lights.
There is also the CIROC the New Year Indianapolis event at the Region's Tower, which boasts Indy's only rooftop event space, with fantastic 360 degree views and a party that has sold out years in a row and is always a hugely popular and glamorous occasion. Ticket sales here.
The Indianapolis New Year's Eve Masquerade Ball is another famous annual event, taking place at the historic Union Station in the downtown area for the 9th time for new year 2018. This party is divided into 3 main areas, with live music in the Grand Hall, top DJ in the Illinois Street Ballroom and a more chilled out area in the Iron Horse Lounge. The party this year is sponsored by Bud Light.
Elsewhere the many bars and nightclubs of Indianapolis will all be competing for business with their own special events. one way to take in several venues in the one evening is to join in the Til The Car Falls Bar Crawl NYE 2018, which will be taking in the Tilted Kilt, Taps and Dolls, Kilroys and the Tiki Bobs.
For those looking for a more family friendly option, the Indiana State Museum hold their Family New Years Eve party offering a variety of entertainment including face painting, stilt walkers and a balloon drop at 8pm.
For those looking for a quieter night, or possibly somewhere to fuel up before hitting the town then there are a plethora of eateries to choose from. The vibrant Indianapolis restaurant scene includes the famous Sushi Club, Fogo De Chao South American style steakhouse, Greek food at the Santorini Kitchen and fine dining at Seasons 52. Check out all the top restaurants and make your reservations online here.
NYE Live Streaming, Webcams
Places to watch live online - there's a whole range of live cams around the Indianapolis area, including soem good views of the city skyline which should be good for firework-spotting:
The IndyCar drop event has been broadcast on local TV in the past too, if we can track down a stream we'll post it here so check back for more details.
Latest: The new year party will again be shown in a live special beginning at 11.30 pm on Indiana's CBS4, which you can watch online here.
New Years Eve Hotels
If you're looking for a hotel with a new year party, then the Hyatt Regency is always a good event, hosting their annual New Year's Eve Bash. There are plenty of great hotels to choose from elsewhere across the city too.
For hotels, bed and breakfasts, guest houses and a full range of accommodation across all budget ranges and to cater for most tastes, visit and book local hotels here.
Popular Pages
The content on this page is written and maintained by Martin Kerrigan. If you have found it useful then please feel free to share it with your friends and family. If you have any comments or events to add to this page please Contact us.