San Diego New Years Eve 2017
Fireworks, Events, Parties, Hotels, Restaurants, Concerts
San Diego, California, 31 December 2016, Midnight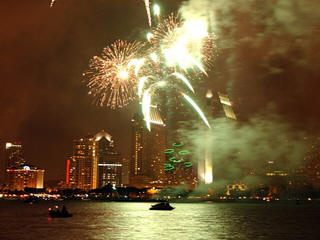 In San Diego, on the southern California coast and close to the border with Mexico the latin influence is more apparent than in many places, with the New Years Eve party taking on the distinctive tone of a fiesta celebration. The main public events are centred around the coastal regions of Mission Bay, where crowds gather in a variety of vantage points to jostle for the best views of the midnight fireworks that fill the sky over the bay's vast expansive skies.
The San Diego municipality know a thing or two about holding a decent fireworks display - the Independence Day Big Bay Boom is one of the biggest 4th July spectacles anywhere in the United States, so you can expect to be very well entertained for new years here.
New Year Fireworks, Events, Parties
One of big advantages San Diego enjoys at this time of year is it's geographical location, which makes for largely clear skies and temperate temperatures, which means the party can move outdoors and the locals enthusiastically embrace this opportunity.
The main fireworks are centred over the Bay, although there is no longer an official municipal new year display there are many private parties that take place on various boats and yachts, which makes for a show of pyrotechnics across the water come midnight. The museum ships anchored here, including the USS Midway, the largest aircraft carrier museum, and the Star of India help provide a dramatic backdrop.
As an added bonus this year the local San Diego bus and trolley services will be offering extended services until 2.30am, making it much easier for everyone to make their way home after the evening's revelries.
For music festival fans there is a huge event in San Diego this new year, with the OMFG! NYE 2017 party at the Valley View Casino Center. This is a 3 day event, running from 29-31 December, lineup and ticket details will be available here.
Away from the main event, there are plenty other offerings to choose from. The W Hotel San Diego are holding their annual Black and White party, featuring an open bar and live music provided by 3 live DJs across 3 separate venues so you're sure to find something to suit your taste.
Big club events this year are at Anthology, a huge NYE party at the Hard Rock Hotel, a Champagne Reception and Ball at Fluxx and a variety of New Years Eve party cruises, hosted by Flagship Cruises and Events. It's worth checking out offers at all the local cruise companies as they all tend to host new year events and there are some truly luxurious yachts in the area. To find detailed listings of all the top events in the bars and clubs in and around the area, including new years day concerts and events, we recommend the San Diego Pipeline.
For a big gala event to see in 2017, the Big Night San Diego is celebrating with an eclectic mix of a dozen different party areas, dance floors, live bands and DJs, huge midnight countdown in an all-inclusive party at the Hilton San Diego Bayfront.
Many of the local hotels host their own new year parties, and one of the biggest this year looks to be the Howard Johnson Hotels New Years Eve Bash 2017 San Diego at Four Points by Sheraton San Diego in their Skies Lounge
Another popular party is the annual Bivouac New Year's Eve celebration at the US Grant Hotel in San Diego's historic Gaslamp Quarter. This event is held in a former speakeasy, adding a unique underground flavour to the party - get more details here.
For fans of comedy then there is a very reasonably priced event at the National Comedy Theatre, where the annual New Years Eve Spectacular features improv comedy performances, buffet dinner, party favours and a champagne toast and balloons at midnight - get your tickets here.
NYE Live Streaming, Webcams
Places to watch live online, including views over the Bay:
New Years Eve Hotels
There's no shortage of places to stay, although as always during the holidays it is wise to get your reservation in early. For a wide range of accommodation and to make your online booking, visit local hotels here.
Reviews & Sharing
The content on this page is written and maintained by Martin Kerrigan. If you have found it useful then please feel free to share it with your friends and family. If you have any comments or events to add to this page please Contact us.