Ball Drop 2016 Live Stream
Webcast Feed, Streaming live from Times Square on New Years Eve
Times Square, New York City, 31 December 2015, Midnight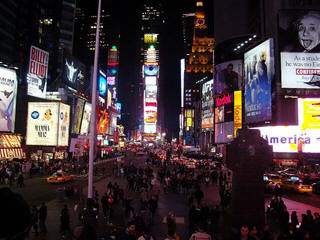 This is such a huge development in the New York Times Square new year's eve story that I've decided it more than warrants a page all of it's own. For many years this has been (with possibly Sydney aside) the biggest and most anticipated new year event in the world, with people wanting to see as much as they can of the evening's events. from the Dick Clark Rockin Eve earlier in the evening to the live music acts, ball drop and fireworks at midnight. For a long time you had to make do with catching a few seconds on the news channels or maybe waiting for the highlights to emerge later in the day - a poor substitute for actually getting to watch the thing live.
Well now this has all changed, with the ball Drop organisers leaping into the 21st century with a live online webcast, not just of the ball drop itself, but the whole evening's entertainment leading up to it, hosted from the legendary Times Square by Allison Hagendorf. Not only is this online streaming free, but also free of commercials, which quite frankly amazes me! In partnership with Livestream they're offering a fantastic service that as far as I can see is easily the best new year's eve coverage of any event globally.
As of this isn't enough the stream is provided in an embeddable format which makes it possible for sites like this one to put it online ourselves, as you can see below. Last year an estimated 17,000 sites took up this offer, so I'm sad to say we're not exactly in an exclusive club, but I think it's a brilliant service nonetheless. The Livestream page alone enjoyed over 1 million viewers, so how many may have seen it on all the sites globally is difficult to imagine, but it will certainly be a pretty big number! The stream is embedded below, and is scheduled to start at 5pm New York (EST) Time. Enjoy!
Dick Clark's NYRE Lineup
The headline act for new year's eve 2015-2016 has been confirmed as Taylor Swift.
Also added to the lineup for this year are now:
Gavin DeGraw
Lady Antebellum (both live by video link from the Bash on Broadway in Nashville)
Charli XCX
Meghan Trainor
Florida Georgia Line
Magic!
Idina Menzel
Also now joining the lineup is One Direction (1D will be by live link from the Billboard Hollywood party)
As previously, the west coast part of the show will be hosted by the Black Eyed Peas' Fergie.
The ABC broadcast gets underway at 8pm New York time.
NYE Live Streaming, Webcams
As well as the live online stream remember you can check out live views from in and around Times Square throughout the day and catch all the build up and atmosphere via the Times Square webcams
Reviews & Sharing
The content on this page is written and maintained by Martin Kerrigan. If you have found it useful then please feel free to share it with your friends and family using the social media sharing tools below. If you have any comments or events to add to this page please Contact us.
We're always interested in hearing comments and feedback from anyone who has attended these events, or if you have any information or updates that might be useful for us to add to the page then please Contact us