Denver New Years Eve 2016
Fireworks, Events, Webcams, Parties, Hotels, Restaurants, Concerts
Denver, Colorado, 31 December 2015, Midnight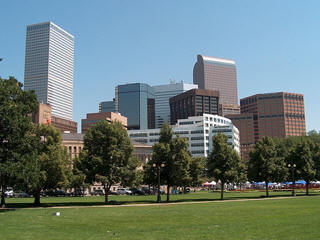 I'm a big fan of wintry conditions over the holiday period, I think that when celebrating Christmas and new year then it very much adds to the atmosphere and sense of occasion if there's a chill in the air and snow on the ground, all the better to reflect the seasonal lights, and in new year's eve's case, the fireworks.
This is why Denver appeals so much as an NYE destination - you're pretty much guaranteed snowy weather and the fact they hold a big public party in the downtown area each year only adds to the appeal, so for the traditional, picture postcard style new year party Denver make sit very much onto the bucket list.
New Year Fireworks, Events, Parties
The biggest party is in Downtown Denver, where the annual fireworks displays take place. The event is part of a larger event on the 16th Street Mall which continues throughout the evening and includes food and drink stalls plus live music and entertainment. Crowds of up to 100,000 are expected on the mall, so make sure you allow yourself plenty time to get there and secure a decent vantage point!
Sponsored by Visit Denver and the appropriately titled Downtown Denver Business Improvement District there are 2 shows, a family focused event at 9pm then the main midnight fireworks. Best viewing points are basically anywhere along the 16th Street Mall. The exact launch points are undisclosed to you just have to position yourself as best you can and hope you chose a good spot.
Perennial new year favourites Umphreys McGee will be back at the Filmore Auditorium again for new years eve 2016, performing a series of shows on 30 and 31 December as well as 2 January. Tickets can be bought online here.
This new year also sees the return of the huge Decadence NYE party at the Colorado Convention Center. This dance and live music event takes place over 2 nights on the 30th and 31st December. Get your tickets here.
Another event worth looking out for this new year is the NYE Black Tie Party at the historic Sherman Street Event Center, featuring live bands, DJs, casino games and a photo booth - get more details and tickets here.
if you prefer to see in your new year at a fanct hotel then one of the top parties this NYE is at the Grand Hyatt Denver Downtown, where they are promising Denver's Grandest New Year's Eve Party with dancing, balloon drops and live music in the Aspen and Colorado ballrooms. Get your tickets online here.
If you just fancy a quieter evening in a restaurant before perhaps wandering downtown to watch the fireworks then Denver has plenty of culinary options too. Top rated eateries include Vesta Dipping Grill, Fruition, Rioja, Snooze and the Palace Arms. Find the full range of options here.
NYE Live Streaming, Webcams
Places to watch live online, including live cam views of downtown Denver:
New Years Eve Hotels
Denver has a wide range of accommodation to suit most budgets, and many are very well located for the new years parties and entertainment. Check out availability and make your online reservations for local hotels here.
Reviews & Sharing
The content on this page is written and maintained by Martin Kerrigan. If you have found it useful then please feel free to share it with your friends and family. If you have any comments or events to add to this page please Contact us.