Charlotte New Years Eve 2017
Fireworks, Events, Parties, Hotels, Restaurants, Concerts
Charlotte, North Carolina, 31 December 2016, Midnight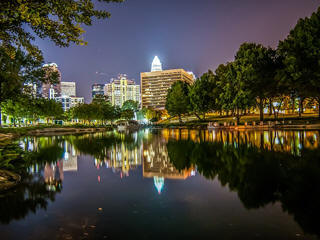 Charlotte hosts some of the best New Years Eve events in the state if North Carolina, with visitors from abroad as well as locals from around the city and wider state area heading to the capital to join the party.
Charlotte is one of the growing number of US cities to hold a First Night event, and it is this that provides the focal point to the countdown celebrations across the city.
This isn't probably a venue that you would place top of your list if visiting the United States for the new year, but there are often pleasant surprises to be found in the most unexpected places so it's well worth a look, with the local people renowned for the friendly welcome extended to visitors, and the fireworks among the best around.
New Year Fireworks, Events, Parties
The focus in Charlotte at New Years is on family friendly entertainment, and this is epitomised by the First Night event, which acts at the city's official NYE event. Held in the uptown region, and taking place for the 5th time this year, First Night features live music, dancers, artists, comedians, jugglers and much more, with entertainment to appeal to all ages and of course the obligatory fireworks at midnight.
Note that the event moved venue for NYE 2016 so we expect to see the same for the 2017 party - now rebranded as CLT New Year's Eve the celebrations will take place at the Nascar Hall of Fame Plaza.
Away from the main event, many of the city's hotels, bars and restaurants hold their own events, and there's plenty to choose from but make sure you get your reservation in early as all the top events WILL sell out.
There is also a serious New Years Eve party at the Westin Charlotte, famous for it's holiday events - more details on this year's party to follow.
For your new year's eve culinary choices, either as precursor to heading off to enjoy the First Night party or just for a quiet night with family or friends then there are plenty of excellent choices in town too. The top vegan option is the famous Luna's Living Kitchen (which I simply have to visit asap!) while Mimosa Grill, Bentley's, Alexander Michael's and The King's Kitchen are all highly recommended. Find all the options here.
NYE Live Streaming, Webcams
Places to watch live online:
The First Night party from Charlotte is also broadcast live on local channel WBTV, which does also have an online streaming option so you should be able to watch live there too:
New Years Eve Hotels
Charlotte provides accommodation across most classifications and pretty much any category, but as with the parties early booking is highly recommended. To search hotels, check availability and make online bookings, visit: local hotels here.
Reviews & Sharing
The content on this page is written and maintained by Martin Kerrigan. If you have found it useful then please feel free to share it with your friends and family. If you have any comments or events to add to this page please Contact us.