San Antonio New Years Eve 2018
Fireworks, Events, Parties, Hotels, Restaurants, Concerts
San Antonio, Texas, 31 December 2017, Midnight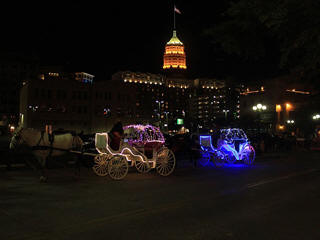 San Antonio has been holding a free large public party on new year's eve for several years now in the form of Celebrate San Antonio in Hemisfair Park, drawing locals and visitors alike out onto the city streets to greet the new year in style with a night of live music, entertainment and of course a spectacular fireworks display at midnight.
From luxury hotels parties, nights out and restaurants to the ubiquitous midnight countdown and fireworks displays, San Antonio has something for absolutely everyone looking to mark NYE 2018 in true style.
With Dallas having ditched the Big D NYE party in recent years the san Antonio event has the chance to challenge for the title of the biggest new year party in Texas, and with the landmark Tower of the Americas providing an excellent focal point for the midnight fireworks display it is certainly a party worth coming out for. If you are looking out for what's happening in Dallas this new year, check out our page here: Dallas new year's eve
New Year Fireworks, Events, Parties
The big event in town for New Year's Eve is the Celebrate San Antonio party, centred in the city's central HemisFair Park and encapsulating the surrounding area, including the iconic Riverwalk, the public park that runs through the centre of town and includes a plethora of bars, restaurants hotels and many other attractions, and is also the site for some spectacular Christmas lights.
The headline acts at Celebrate San Antonio this year, expected to draw a crowd of up to 200,000, include Pinata Protest, Carlton Zeus and Sunny Sauceda, while at the Arneson River Theatre family stage there will be a live performance by Brianna Nicole.
The main area covered by the NYE party is South Alamo Street (where the main stage is located) between Market and Durango Streets and also in La Villita, there are 3 stages set up across this whole area to play live music to the crowds, carnival games and playground rides, and the place will be packed with visitors soaking up the atmosphere and enjotying the entertainment.
The new year party gets underway at 5pm and continues right up until after the 15 minute long spectacular midnight fireworks, which are launched from the Tower of the Americas, the city's most prominent landmark and great focal point for the display. The Tower actually has it's own restaurant and observation deck, so is a great option for somewhere to spend new years and guarantee yourself a fantastic view of the party and fireworks.
Elsewhere, the bars and clubs of San Antonio join in with a multitude of new year's even parties to choose from. The most popular venues include Club Rio, Celebs Star Bar, Maroc Bar, Backstage Live, Gruene Hall and Cheatham Street Warehouse. Ticket info to follow.
The restaurant scene in San Antonio is heavily steak, burger and rib based as you would expect but there are offerings from most international cuisines too. Most popular eateries include the Wildfish Seafood Grille, Bohanan's Prime Steak and Seafood, Boudro's on the Riverwalk, Bella On The River and for us veggies the Green Vegetarian Cuisine. You can view the complete range of San Antonio restaurants here.
NYE Live Streaming, Webcams
Places to watch live online, including a city skyline view and a live webcam stream on the River Walk:
You can also check out a full range of live online coverage from new year fireworks and parties across the US and around the world in our brand new Live Streaming section.
New Years Eve Hotels
The hotels in the Riverwalk area all hold their own new year's eve parties so represent a good chance to sort out your accommodation and evening's entertainment all in one go - look out in particular for the gala events at the Hyatt Regency Riverwalk Hotel, Hotel Valencia and Hotel Contessa.
There is also a popular new year party at the Courtyard San Antonio Riverwalk, a high rise venue with a perfect location if you are attending the Riverwalk new year events.
If you're planning on staying in any of the hotels of San Antonio over the New Year period, then early reservation is strongly recommended. You can search, check availability and book local hotels here.
Reviews & Sharing
The content on this page is written and maintained by Martin Kerrigan. If you have found it useful then please feel free to share it with your friends and family. If you have any comments or events to add to this page please Contact us.