Atlanta New Years Eve 2016
Peach Drop, Fireworks, Events, Parties, Hotels, Restaurants, Concerts
Atlanta, Georgia, 31 December 2015, Midnight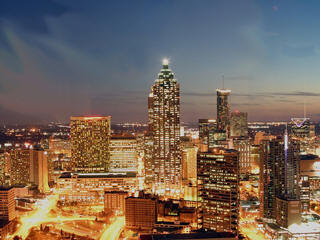 Atlanta is the capital of Georgia state, but when it comes to New Years Eve they like to see themselves as being the capital of the whole deep south of the United States, with an enormous street party and fireworks display bringing locals out in large numbers as well as crowds of visitors from smaller towns in the area and the surrounding countryside regions.
The Peach Drop party provides a focal point for the Atlanta NYE celebrations, putting a peculiarly Atlantan twist on the more traditional ball drop you see in Times Square. The Peach Drop has bveen taking place each year since 1989 and the peach itself is made out of fibreglass and foam and weights in at over 800 pounds. It takes 58 seconds for the giant peach (nod to Roald Dahl here I think...) to descend the light-clustered 136 foot tower.
New Year Fireworks, Events, Parties
Atlanta's Peach Drop event serves as the central point for the more than 100,000 revelers who join in the family-friendly festival. The event includes carnival rides, vendors, live music, and its namesake Peach Drop (a play on the Times Square iconic ball drop), all in the name of the countdown to the new year. The event is held at downtown's Underground Atlanta and the surrounding Kenny's Alley area. lasting right up until 4am on new year's day morning.
Latest: There is actually some doubt as to whether the Peach Drop will be taking place at all this year, with event organisers and the city unable to confirm details at this stage - we will provide updates as and when we hear anything.
Update: 22nd December: The Atlanta mayor is now saying that there WILL be a Peach Drop after all this new year, taking place once again at Atlanta Underground, with doors open from 5pm. Performers will include T.I. and Sister Hazel.
If you would still like to attend a public fireworks display in the area then you might like to head 50 miles or so west to the town of Tallapoosa where they hold an annual Possum Drop (not a real one thankfully!) accompanied by live music and fireworks - you can get more details here.
There is always plenty in the way of live music in Atlanta on new years eve, and this year will be no exception, with Widespread Panic already announced as playing live at the Fox Theatre, with 3 shows from 29-31 December. Tickets are available here.
For spending some time in and around the city over the holiday period, recommended places to visit include the High Museum of Art, the Woodruff Arts Center, The Museum of Design Atlanta, commonly abbreviated to MODA and the Atlanta Contemporary Art Center.
For an event of a slightly more cultural feel, the ASO (Atlanta Symphony Orchestra) will be performing live at the Hodgson Concert Hall. This is always a very popular event with Atlantans on new year's eve so is likely to sell out fast, get your tickets here.
New Year's Eve in Atlanta also see football fans well catered for, with the Chick-fil-A Peach Bowl taking place at the Georgia Dome.
The bars, hotels and restaurants of Atlanta also host some great new year parties, which may be your best option now that it looks like there won't be a Peach Drop this year. Events to look out for include:
New Year's Eve Masquerade Dinner & Dance Party at Hilton Atlanta Northeast
Rat Pack New Year's Eve Party at Crowne Plaza Ravinia
NYE in the ATL 2016 at the Westin Atlanta South
You can get more details and tickets for these events, plus many more in the area, here.
The weather at the end of December is somewhat unpredictable, with anything from clear skies and warm sunshine to snow storms possible, but if it remains clement then there are some outdoor attractions worthy of the name - the Atlanta Botanical Garden features the Kendeda Canopy Walk, and the Atlanta Zoo remains enduringly popular, not least for the resident giant pandas.
When it comes to eating out then Atlanta elevates southern cuisine almost to an art form, but there is much more to the city's dining establishments than catfish and grits. Varuni Napoli and Don Quixote are top Italian choices, while Daddy D'z BBQ Joynt is a local instution. See the full range of Atlanta's many restaurants here.
NYE Live Streaming, Webcams
Places to watch live online:
New Years Eve Hotels
There is a wide selection of parties at the hotels and restaurants of the city - highlights worth looking out for include NYE at the ATL, a black tie event held at the Crowne Plaza Hotel, The Possum Drop New Years Eve Celebration at Possum Pickin in downtown. Other hotels with a luxury touch are the Mandarin Oriental, Wingate by Wyndham, Four Seasons, The St Regis and the InterContinental Buckhead. For all accommodation options in Atlanta over the holiday period and to check availability you can book local hotels here.
Reviews & Sharing
The content on this page is written and maintained by Martin Kerrigan. If you have found it useful then please feel free to share it with your friends and family. If you have any comments or events to add to this page please Contact us.