Fayetteville New Years Eve 2018
Fireworks, Events, Parties, Hotels, Restaurants, Concerts
Fayetteville, Arkansas, 31 December 2017, Midnight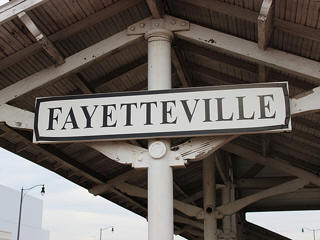 The city of Fayetteville, not to be confused with its namesake in North Carolina, holds one of the biggest new year's eve parties in the state of Arkansas in the form of the Last Night Fayetteville party, putting a uniquely Arkansian slant onto the traditional first night event.
Fayetteville is a great place to visit at any time of year, oozing southern charm and character with its flagship University or Arkansas, Fayetteville Historic Square and the Wilson Park historic district places of particular interest. You're always guaranteed a warm welcome here so it's an excellent choice to see in the new year in this part of the country.
New Year Fireworks, Events, Parties
The big public party is of course Last Night Fayetteville, and this takes place in the downtown Fayetteville Square across various stages and indoor venues and is believed to be the biggest new year event anywhere in Arkansas.
The celebrations get underway at 6pm and continues right through until 2am on new year's day. it is a family friendly event, although the VIP areas are 21+ only.
The event is focussed mainly on the live music (lineup to follow) but the climax of the party is the hog drop at midnight, where you'll ge tto see the unique sight of and 8.5 foot hog sculpture being dropped at midnight, accompanied of course by the fireworks display.
You will need tickets for the event, with prices ranging from $5 for kids and $25 for adults up to $85 for the VIP option - you can buy your tickets online here.
The lineup for Last Night Fayetteville is to follow, but will feature the following venues:
Main stage
Aerial stage

Folk stage
Rock stage

Comedy stage
Cabaret stage
Theatre stage
Kids stage
if you're in Fayetteville for the Last Night party you'll likely be looking for dining options at some point during the evening, and fortunately the city has plenty to choose from. Top rated eateries include Hammontree's Grilled Cheese, Hugo's, Sassy's Red House, the Catfish Hole and Smitty's Garage Burgers and Beer. For vegan options try the Mellow Mushroom. You can see the full range of Fayetteville restaurants, many with online booking options, here.
NYE Live Streaming, Webcams
There are some pretty good webcam views in Fayetteville, which are probably your best ebt for getting a look at the new year fireworks:
New Years Eve Hotels
There are plenty of place sto choose from, but with the area so busy for the Last Night party it will be busy so book early. Popular places are the Hampton Inn and the Chancellor.
You can search for deals at all of these venues, plus other local hotels here.
Popular Pages
The content on this page is written and maintained by Martin Kerrigan. If you have any comments or events to add to this page please Contact us.