Nashville New Years Eve 2017
Fireworks, Events, Parties, Hotels, Restaurants, Concerts
Nashville, Tennessee, 31 December 2016, Midnight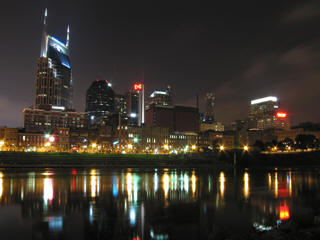 Nashville is a city that is much more commonly associated with country music than a big new Years Eve party but that doesn't stop the locals throwing themselves into the occasion, with visitors from across Tennessee and the rest of the country and indeed the world come to town to join the party, which does of course commonly include a country and western theme!
There are a number of music venues in Nashville, probably more per head of population than pretty much anywhere else in the US, and these tend to be the focus of the NYE celebrations, but there is still plenty other stuff going on if you prefer more traditional options of fireworks, food and drink - Nashville does all of those in impressive enough style as well!
New Year Fireworks, Events, Parties
As such as musically orientated city, Nashville has a number of popular live music venues, and these all compete to host the top acts over the new year and holiday period.
The big headline performer for several years now (long enough to pretty much become a local new year tradition!) was been Bassnectar performing at the city's Bridgestone Arena, but he moved on for new year 2016 so we're not sure if he will be returning.
Other top venues include the Ryman Auditorium, the famous Grand Ole Opry House, the Franklin Theater and the War Memorial Auditorium.
Away from the music halls, the big event in Nashville is the New Years Eve Bash on Broadway, which takes place on Lower Broadway right in the centre of town. This event is currently sponsored by Jack Daniels and organisers this year are planning for a crowd of up to 150,000!
Highlights include live musical performances, a free street party and a midnight countdown with a musical theme (we've had a guitar and a music note replacing the traditional ball drop in previous years) plus of course the mandatory fireworks display. We're also told to expect large quantities of confetti to be involved at some stage.
Last years the headline acts from the Bash on Broadway were also carried by live stream to Times Square in New York where they were a key part of the iconic Dick Clark's New Year Rockin Eve party. We'll be looking out to see if the same happens again for this new year and let you know as soon as we have confirmation
The bars and nightclubs of Nashville all like to get in on the act too - major venues include the Ibiza nightclub, Ultra Violet and The Greenhouse.
Gaylord's Opryland Hotel offers a special new year's eve package that includes your accommodation and tickets to the party held in the resort, which this year is a New Year's Eve Indoor Street Party featuring three live bands, DJ, dinner and champagne toast at midnight, reserve your place here.
For those with more cultural leanings then we can heartily recommend A Nashville Symphony New Year's Eve at the Schermerhorn Symphony Center located downtown.
For football fans new year's eve also sees the Music City Bowl being played at the Nissan Stadium.
In terms of dining options if you want to get a decent feed before you head to your party of choice, of even just to spend the evening more quietly with friends and family then Nashville has an excellent range of options too. Southern style cuisine is obviously a speciality but international tastes are catered for too - most popular eateries include Fleming's Steakhouse, Watermark restaurant and Giovanni's Ristorante. Check out all the top Nashville restaurants here.
NYE Live Streaming, Webcams
Places to watch live online, including some decent skyline views that should capture the fireworks nicely:
Nashville is also one of the locations featured on the CNN New Years Eve Live show, which you can find out how to watch live online here.
New Years Eve Hotels
There is always a warm welcome in Nashville, and the plentiful range of accommodations means you shouldn't have too many problems finding somewhere to lay down for the night. Find your local hotels here.
Reviews & Sharing
The content on this page is written and maintained by Martin Kerrigan. If you have found it useful then please feel free to share it with your friends and family. If you have any comments or events to add to this page please Contact us.