Dallas New Years Eve 2017
Fireworks, Events, Parties, Hotels, Restaurants, Concerts
Dallas, Texas, 31 December 2016, Midnight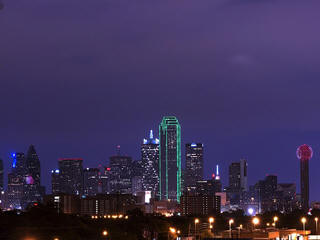 Dallas on new year's eve means a big party, with the clement southern weather offering the opportunity for a huge outdoors new year party that the locals embrace with typical Texan enthusiasm.
There has been some trouble putting a party together in recent years, with funding issues an ongoing issue, but they always seem to pull through at the last minute, although with the apparent passing of the Big D NYE attention shifts to Reunion Tower for this year's big new year party.
Another option to consider if you like a big new year party is to take a trip down to San Antonio - see all the latest on new year this year here: San Antonio new year's eve
New Year Fireworks, Events, Parties
Latest: There is a big new free public event for new year's eve this year in Dallas with the announcement of the AT&T Streaming Lights at Reunion Tower show. The midnight fireworks will be laucnehd from 560 feet up on the Reunion Tower itself, a popular observation tower and iconic Dallas landmark.
The Reunion Tower show will start on the stroke of midnight and last for 8 minutes and will include fireworks, a light show and a synchronised music score. The show has been titled "Streaming Lights at Reunion Tower"
The show will be viewable from all around the downtown area, with the best viewing areas to be along the western bank of the Trinity River, at Trinity Overlook Park and Trinity Groves.
The focus of attention has previously been the the Big D NYE free party but the e Big D NYE event was cancelled last new year due to problems with the Victory Park venue, so it if does return this year expect to see it at a new location. We will of course provide full details as soon as we have them although it seems likely the Reunion Tower event will supercede this one.
One huge addition to the Dallas new year scene is the Lights All Night live music festival event at Dallas Convention Center. This is a 2 day event that also continues on new years day. More details and ticket sales here.
Other big parties this year are taking place at the Crowne Plaza Hotel, Cloud Nine at Five Sixty, Wonderland 2017 at Sisu Uptown Resort, Crescent Lounge and Nightclub, Midnight Rambler and Bugalow Beach Club
There's a treat for sci-fi and comic book fans the new year, with Stan Lee in town for a celebrity roast at the Dallas Sheraton hotel as part of Geek Expo's Marvelous Nerd Year's Eve event that runs from 29th December - 1 January. Stan will be appearing on December 29. Tickets can be secured online here.
For New Year dining options, Dallas is especially renowned for its barbecue, authentic Mexican, and Tex-Mex cuisine. Eateries worth considering as the focal point of your evening include Iron Cactus, Five Sixty Wolfgang Puck, the Dallas Fish Market, Avanti Restaurant Fountain Place, Craft Dallas and Sevy's Grill.
NYE Live Streaming, Webcams
The new year's eve party in Dallas has actually been available to watch online for a whuile now as the Big D NYE organisers were very much pioneers whenb it came to live streaming, with an online webcast each year.
Dallas is also very well served with live webcam views - check out how to watch the Dallas new year's eve fireworks here:
New Years Eve Hotels
Dallas welcomes visitors from all around the world on a regular basis and the range and quality of available accommodation reflects this cosmopolitan touch. If you're here to watch the Reunion Tower fireworks show we can recommend the Hyatt Hotel right next door.
For a wide range of hotels and apartments with online availability and reservations check out the list of local hotels here.
Reviews & Sharing
The content on this page is written and maintained by Martin Kerrigan. If you have found it useful then please feel free to share it with your friends and family. If you have any comments or events to add to this page please Contact us.