Columbia New Years Eve 2018
Fireworks, Events, Parties, Hotels, Restaurants, Concerts
Columbia, South Carolina, 31 December 2017, Midnight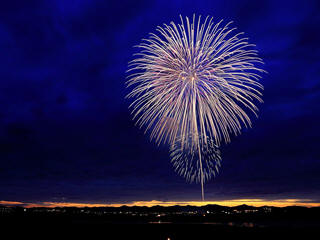 Columbia, as the state capital of South Carolina takes it's new year's eve party responsibilties very seriously, hosting the fabulous Famously Hot New Year party with a free live concert and spectacular midnight fireworks to welcome the new year in style - see below for full details.
The city of Columbia is worth a visit at any time of year, so if you are heading here for the Christmas and new year festive period be sure to leave some room on your schedule to check out some of the local attractions - things like the South Carolina State House, Finlay Park, Robert Mills House and the Columbia Museum of Art should certainly be on your list.
New Year Fireworks, Events, Parties
If you're in Columbia for new year's eve then it's almost certain you'll be attending the Famously Hot New Year, the city and indeed the state's biggest and liveliest new year party.
The party takes place in downtown Columbia and occupies Main Street with a range of entertainment from the time the gates open at 6.30pm, including the NYE Carnival for kids, an ice rink on Boyd Plaza and of course an absolute wealth of food and drinks options.
In the evening attention turns to the free outdoor new year concert, with top performers entertaining the crowds as the buildup to midnight grows in excitement. Live acts this year to follow.
The highlight of the Columbia new year party though is without doubt the spectacular new year fireworks display, starting on the stroke of midnight. The display is most prominent over the State House and can be viewed from Main and Gervais, all along Main Street and across the skyline for miles around. This is the biggest new year fireworks display anywhere in the Carolinas.
Elsewhere in Columbia there are of course a range of new year parties to choose from. Top events this year include the Women of Hope New Year's Eve Gala at the Lexington Medical Center Foundation, a Masquerade Ball at Studio Cellar and New Year's Eve at the Oak Table. Get more details and tickets for these and other events here.
NYE Live Streaming, Webcams
if you're looking to try and get a live view of the Colunbia new year party and fireworks then there are some webcams in the city which should help you out, including an excellent skyline view:
New Years Eve Hotels
There are plenty of hotels to choose from in Columbia, with many located right in the centre where the main party takes place. Top choices include Hampton Inn by Hilton Columbia Downtown Historic District and the Hilton Columbia Center Hotel.
You can search for deals at all of these venues, plus other local hotels here.
Popular Pages
The content on this page is written and maintained by Martin Kerrigan. If you have any comments or events to add to this page please Contact us.