Miami New Years Eve 2015
Fireworks, Events, Webcams, Parties, Hotels, Restaurants, Concerts
Miami, Florida, 31 December 2014, Midnight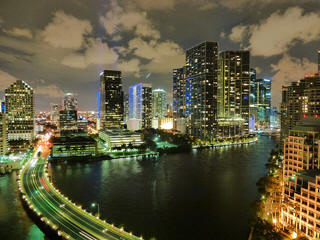 BY MARTIN KERRIGAN
Miami, the beating heart of Florida's sunshine coast is the state's party capital all the year round, and New Years Eve is no exception with crowds hitting the bars, hotels and restaurants for one huge city-wide party before watching the countdown and midnight fireworks at one of the many private displays of the major pyrotechnic spectacular over the Biscayne Bay. Miami City and Miami Beach have a load of parties to choose from so you're pretty much guaranteed to find something that takes your fancy.
For me Miami is one of the United States iconic cities - I'm from the generation that grew up with Miami Vice of course - and the white sand beachfront with high rise skyscrapers right along the waterfront create a fantastic scenic backdrop that always reminds me of Surfer's Paradise, one of my favourite places on the planet (I am of course conscious that Miami was doing it first!) and with the buzzing nightlife it would be a fantastic place to see in the new year.
Fireworks, Events and Parties
The main public event in Miami for new year's eve, and one that has survived the budget cuts that have curtailed similar events in many US cities, is the big midnight fireworks display over Biscayne Bay. They are located in the area on Ocean Drive and 8th Street.
The iconic Big Orange is the focal point of the new year party at Bayfront Park, the dropping of which from the roof of the InterContinental Hotel is the focal point of the evening's events that includes free live music leading to the big countdown and spectacular fireworks at midnight.
The waterfront areas draw huge crowds on NYE and each year there is a massive range of famous beach party events, including the big one at Fontainebleau Miami Beach.
Away from the beach and into the city as well the Miami nightlife comes into it's own on New Years Eve like no other time as the city strives to cement it's reputation as the nation's party central. Top venues include Mansion, Cameo Nightclub, Mokai, Opium Nightclub, Kaffe Krystal, Wonderland, Tabu, Bongos Cuban Cafe, La Covacha and Club 50, and all of the big bars and clubs compete to hold the biggest and brightest new year party.
The Fontainebleau Miami Beach is always another top new year destination and this year they are hosting a NYE 2015 concert featuring The Weeknd and Nervo playing live poolside at this iconic venue - get your tickets reserved here.
Another option many people opt for is to take to the water and join one of the new year cruises on Biscayne Bay, a great way to do something a little different as well as securing yourself one of the best possible vantage points to watch the fireworks.
One of the confirmed shows for live music on new year's eve 2014-2015 is that Pitbull will be in Miami, performing live and hosting the Fox network's New Year's Eve Special in a show provisionally titled "Pitbull's New Year's Revolution", which will also be broadcast live to the nation - more information here.
There isn't as yet a venue confirmed for this event, but we are hearing rumours that Bayfront park is a possibility, we'll confirm once we know for sure, although the support acts for the evening have now been named as Enrique Iglesias, Fall Out Boy, The Band Perry, Fifth Harmony, and Becky G.
The change of venue for Pitbull leaves a gap to be filled at the American Airlines Arena, and it has now been announced that this will be filled by rock band Phish, playing not only 31st December but the 3 days afterwards too. Tickets are available from the 4th October although you can request them in advance here.
Another live music option this year sees rapper J. Cole performing a NYE 2015 pooside party and show at Delano Beach Club on South Beach - tickets available online here.
I really like the look of the gala events offered by Island Queen Cruises where you can spend the evening on an all-inclusive basis with premium bar and fabulous fine dining menu on one of their 3 luxury yacht, the Biscayne Lady, the Venetian Lady and the Floridian Princess. Another good option is the New Year's Eve Fireworks Gala cruise on The Musette Yacht, with live music and full buffet on climate-controlled decks - get more details here.
There is also a New Year's Eve Fireworks Dinner Cruise being offfered on board the Lady Windridge, a luxury cruise that includes dinner, premium open bar, party favors, DJ entertainment, stunning views of the Miami Fireworks Show and a champagne toast to 2015 at midnight!
For sports fans, new year's eve this year also sees The Orange Bowl college football game taking place at the city's Sun Life Stadium. Kick off is at 8pm.
For eating options, many diners will head to one of the many beach-side restaurants, such as Los Parrilleros, Te con Te, Layali Miami Mediterranean Restaurant and Hookah Lounge, Positano Ristorante Italiano or the Ajiacos Grill Colombian Restaurant. Miami has a huge range of restaurants, with seafood an obvious speciality, but most cuisines are amply catered for - check out local restaurant listings and reviews here.
Live Streaming and Webcams
Places to watch live online, including live views over Biscayne Bay, as well as streams from Downtown Miami and South Beach:
The new year's eve special will be screened live on Fox so there's a good chance of an online stream too - we'll be keeping our eyes peeled and will post the link here as and when we find it.
Hotels and Accommodation
If you're planning on visiting Miami or Miami Beach over the New Year period, then be advised it is popular as many northerners head south for the warmer climate so it's well worth making your reservation as soon as you have your plans set - click here for the best Miami hotel deals.
Reviews & Sharing
If you have found the content on this page useful then please feel free to share it with your friends and family using the social media sharing tools below:
We're always interested in hearing comments and feedback from anyone who has attended these events, or if you have any information or updates that might be useful for us to add to the page then please Contact us or complete the feedback form below:
Other Popular Locations