NEW YEARS EVE 2014-2015
USA & CANADA
EUROPE
ASIA
SOUTH AMERICA
AUSTRALASIA
CHINESE NEW YEAR
FAVOURITE LOCATIONS

ABOUT US
New Years Eve is a unique time of year to visit a new place, and we aim to travel to as many as we can.
We've already visited some of the main ones: Paris, Sydney, London and Edinburgh but have the ambition to get to as many of the others as we can, with the best places to go for new year 2014-15 next on our list!
We hope you find our listings useful in finding the best NYE fireworks, parties, hotels, concerts, restaurants, cruises and events wherever you are!
BY MARTIN KERRIGAN > HOME > USA > NEW YORK CITY
NYC New Years Eve 2015
Ball Drop Live Stream, Webcams, Fireworks, Events, Parties, Cruises, Hotels
Times Square, NYC, New York City, USA, 31 December 2014, Midnight
Well 2014 was the year we finally made it to new York City and visited the incredible Times Square, as you can see from the picture at the top of the page! OK so it wasn't new year's eve when we visited but even in mid July the place was buzzing with an energy all of it's own - finally we can see what al the hype is about! To actually get to see in new year in NYC is now officially right at the top of the bucket list! I've put some more pics from our visit further down this page, just couldn't resist!
Well, this is the big one! If Sydney and the fireworks over the harbour bridge are what gets New Years Eve started, then New York's Times Square hold the party everyone waits up for! The fireworks and the ball drop are the obvious highlight but there are events going on throughout the day - turn up nice and early (you'll need to!) and be treated to a full day of entertainment including live music, celebrity guest appearances, comedy acts and dancers.
I'm not generally a big fan of large crowds, or indeed waiting around for a long time but I guess when it comes to new years in Times Square I'm going to have to be a little more flexible than usual! I would love to hear personal experiences from anyone who has actually attended, especially with hints and tips on the best way to go about it, please use the comments form at the bottom of the page if you can help!
| | |
| --- | --- |
| Fireworks, Events, Cruises & Party Listings | |
Times Square is the major component of the New Year's Eve celebration, where huge crowds gather to wait all day for the world famous ball drop, and new year 2014-2015 will be no exception. The Waterford crystal ball is located on the roof of One Times Square and begins it's slow descent at precisely 11:59 pm, triggering fireworks at the stroke of midnight when it finally reaches the bottom.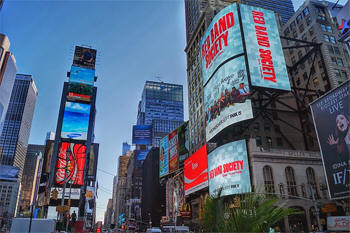 Toshiba's Times Square billboard screen also displays a timer of the countdown with the crowd joining in to count out the final ten seconds.
If you're heading to Times Square then we heartily recommend the Balldrop Pass - it's going to set you back in the region of $250 but includes admission to parties in multiple venues in Times Square and the surrounding area, featuring the top party DJ's in NYC, plus many of the venues have free food and drink, and the pass also gives you access to a raft of special offers and deals valued at up to $1000 - seems rude not to! There is also a Family Pass option.
The Times Square fireworks and ball drop are immediately preceded by the iconic Dick Clark's Rockin' New Year with Ryan Seacrest, where massive stars perform for the crowds and the same worldwide viewers on TV and online. We'll have the full list of performers as soon as they're announced.
The CNN coverage live from Times Square on New Year's Eve will again be hosted by Anderson Cooper and Kathy Griffin - the pair have been doing this so long now the show is actually named "New Year's Eve Live with Anderson Cooper and Kathy Griffin"
Away from the hubbub and general chaos in Times Square, there is also a big fireworks display in Prospect Park, across in Brooklyn. There is entertainment throughout the evening at the Grand Army Plaza, followed by the pyrotechnics come midnight.
There will be, as always, a huge range of parties in New York for the new year, just in the Times Square area itself there are dozens of noteworthy venues, especially at Planet Hollywood, Carmine's Guy's American Kitchen and Bar, Dallas BBQ, TGI Fridays NYC, BB King's Blues Club, Madame Tussauds, Chevys, Copacabana, Culture Club, Espace or how about watching the ball drop from the ultimate viewing spot, the XVI Rooftop Lounge. Ticket details to follow.
For culture vultures the New York Philharmonic Orchestra hold their annual new year party - full show and ticket details to follow.
| | |
| --- | --- |
| Streaming, Webcams & Video | |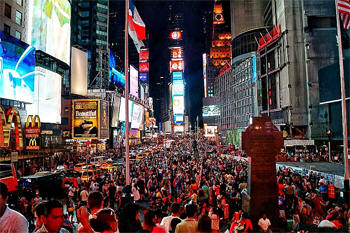 Places to watch live online - this is one place you're going to have no trouble finding live coverage of no matter where you are in the world - why not try getting a taste of the atmosphere throughout the day on the live streaming web cam feeds on the excellent Earthcam site, which has a special section dedicated to the event, with live streaming views all around Times Square
The full event is also webcast live online here:
There is also an official Ball Drop app that brings all the latest from Times Square including live coverage of the ball drop itself direct to your mobile phone, tablet, Ipad, whatever! This year's app is even more user friendly and interactive than the previous version, alowing among other things Tweets between users:
If you're planning on visiting New York over the New Year period, then it will be beyond busy so early reservation is very strongly recommended - click Here for the best New York hotel deals
We would love to hear feedback from anyone who has visited New York for New Years Eve and would like to share their experiences.
Also if you know of any events or parties we don't yet have listed, whether it's something you're attending or organising, please let us know and we'll be happy to update the page.