Minneapolis New Years Eve 2017
Fireworks, Events, Parties, Hotels, Restaurants, Concerts
Minneapolis, Minnesota, 31 December 2016, Midnight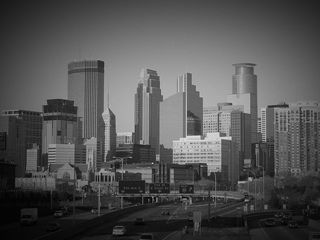 When looking further afield for venues in the United States that are possibly a little more of the beaten track and somewhat less predictable places to welcome the new year I soon came across Minneapolis sitting on the banks of the Mississippi river, a city I had of course heard of, but knew relatively little about.
Turns out to be the largest city in the state of Minnesota, although not the state capital, that honour falls to St Paul, and with a heavy sports focus, being home to the Minnesota Timberwolves NBA team and Minnesota Vikings American football side, both of who have home games over the new year period, so another excellent reason to be in town at this time of year, especially as attending local sporting events always features highly on my to do list when visiting a new place for the first time.
New Year Fireworks, Events, Parties
As with most decent-sized US cities there is a big public event to celebrate new year's eve, and in Minneapolis this is the Crystal Ball event in the city's central International Market Square. The NYE 2016-2017 party gets underway at 8pm and features live music and entertainment throughout the evening, leading up to the countdown at midnight.
The event is open to the public, but guests must purchase a ticket for entry. There is high possibility of selling out so it is recommended that guests buy their tickets in advance - you can get more details and secure your tickets here.
Another big event taking place this year is a masked ball, entitled A Masked Affair, at the Muse Event Center. This is one of the more unique new year parties, and includes champagne reception, complimentary hors d'oeuvres with surreal and fantastic live entertainment.
New year's eve 2016 also saw the return of the Minnesota Orchestra's New Year's Eve concerts at Orchestra Hall, the first time these events had been held since way back in 1998 - the event proved a great success so we would anticipate a repeat for nye 2017 - we'll bring you confirmsation right here just as soon as we have it.
Elsewhere there is always fierce competition among the city's clubs and bars to hold the loudest and liveliest party, which means plenty nights out to choose from - this year's top party venue selection includes Elixir Lounge, The Pourhouse and the Epic Event Center
if you're looking for somewhere to eat out on new year's eve, whether as part of a quiet social evening with friends or as precursor to hitting one of the big parties, then Minneapolis has plenty of choices. Top rated venues include the famous SEVEN Steakhouse, Hell's Kitchen, Gorkha Palace and the Capital Grille. Us veggies are well catered for by the Ecopolitan Restaurant - see the full range of local restaurants and cafes here.
NYE Live Streaming, Webcams
Places to watch live online - there is a decent selection of webcams in the city, including a few with good views of the skyline which should offer some good shots of the fireworks across the city at midnight:
New Years Eve Hotels
If you're planning on visiting Minneapolis over the New Year period, then it will be exceptionally busy so you ideally need to be making your reservations as early as you can. You can search, check availability and book local hotels here.
Reviews & Sharing
The content on this page is written and maintained by Martin Kerrigan. If you have found it useful then please feel free to share it with your friends and family. If you have any comments or events to add to this page please Contact us.