Memphis New Years Eve 2018
Fireworks, Events, Parties, Hotels, Restaurants, Concerts
Memphis, Tennessee, 31 December 2017, Midnight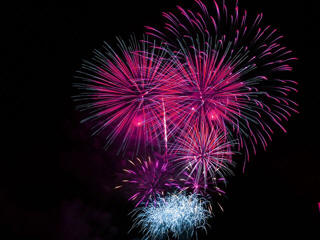 Memphis, Tennessee is of course most commonly associated with music, and this theme is very much reflected in their new years eve celebrations, with the main event being their own interpretation of a ball drop, the Guitar Drop, which takes place in the Beale Street historic district, along the iconic Memphis Walk of Fame, which features entries for famous Memphis musicians, including WC Handy, BB King and Bobby Blue Bland - suddenly Marc Cohn's Walking In Memphis track starts to make a lot more sense!
This is a part of the United States I've wanted to visit for a long time and would love to make it over around the holiday season and to join the party at new year's, especially if I could manage to combine it with a visit to New Orleans, another one right at the top if the bucket list!
New Year Fireworks, Events, Parties
The Celebration on Beale is the major event of the evening's festivities in Memphis, and attracts tens of thousands of visitors to the downtown district. One of the earlier events features the invitation to Bury Your Blues, whereby locals and visitors alike are asked to bring copies of any of their "blues" and throw them into an open coffin on Beale Street. This is a unique aspect of the night here, and reflects the "making a new start" nature of the new year.
There is also a great range of live music at the event, featuring the inevitable blues-heavy performances with a focal point being the live concert in WC Handy Park which gets underway at 8pm. Later in the evening, everyone puts on their metaphorical (and is some case, literal!) blue suede shoes and heads on down to Beale for the Guitar Drop, where a giant blue Gibson guitar falls on the Blues Alley outside the Hard Rock Cafe. This is immediately followed by the midnight fireworks.
Another popular party is New Year's Eve Party at the Peabody which takes place in the Grand Lobby and Mezzanine of the famous Peabody Hotel.
Overton Square New Year's Eve Bash, hosted by Lafayette's Music Room, draws large crowds to the city's Overton Square too, with Madison Avenue closed down to accommodate the party in the area's many bars and restaurants. There will be countdown to midnight on the street too
The other big event in Memphis on new year's eve is the AutoZone Liberty Bowl held at the Liberty Bowl Memorial Stadium, an annual (with occasional interruptions!) game of college football, which is preceded the day before by the Beale Street Parade and the Bash on Beale Pep Rally at Handy Park.
Another popular option in Memphis is to take to the water, and the city's location on the banks of the mighty Mississippi makes an especially attractive option, giving the bonus of an excellent view of the city skyline and the fireworks.
Back on Terra Firma, the restaurants and bars of Memphis provide a huge range of dining options for your new year celebration, whether it's a quiet dinner with friends and family of fuelling up before a big night out on Beale! Steaks, fried chicken and soul food are all top of the menu here, and top recommendations are Gus's World Famous Fried Chicken, BB King's Blues Club, Felicia Suzanne's, Flight Restaurant & Wine Bar, and for us veggies Deja Vu: New Orleans Creole Soul Food & Vegetarian Restaurant looks like it could be the way forward. Check out all the top Memphis restaurant choices here.
NYE Live Streaming, Webcams
Places to watch live online, including a live stream right on Beale Street:
Remember if it's a live stream of the Liberty Bowl you're looking for then you can watch it live on ESPN.
New Years Eve Hotels
If you're planning on visiting Memphis over the New Year period, then early reservation is strongly recommend. You can search, check availability and book local hotels here.
Popular Pages
The content on this page is written and maintained by Martin Kerrigan. If you have found it useful then please feel free to share it with your friends and family. If you have any comments or events to add to this page please Contact us.