Jacksonville New Years Eve 2017
Fireworks, Events, Parties, Hotels, Restaurants, Concerts
Jacksonville, Florida, 31 December 2016, Midnight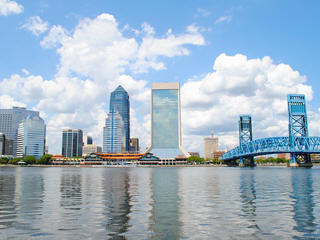 Jacksonville is not the best known town in the sunshine state of Florida (that distinction probably falls to Miami or Orlando, thanks in turn to the TV power of Miami Vice and Mickey Mouse) but it is the state's biggest city, and likes to reflect this fact when it comes to throwing a party, and new years eve is no exception.
The town is focused on the St Johns River and the Jacksonville Beaches scattered along the Atlantic Coast, collectively locally often just referred to as The Beach and including Mayport, Atlantic Beach, Neptune Beach and Ponte Vedra Beach - these ocean front locations are the focal point for many of the spectacular fireworks displays you will see lighting up the sky as midnight and 2017 arrives.
New Year Fireworks, Events, Parties
On new year's eve in Jacksonville the crowds generally head to the downtown area, where food stalls and several stages with various entertainment keep everyone occupied leading up to the midnight fireworks display, the main ones of which are launched over the St John's River at The Jacksonville Landing.
One top option this year is to bring in the new and close out the old with Party Legion, Jacksonville's premium party entertainment group as they present the signature NYE Themed event "The Resolution"! Jacksonville Florida, taking place at historic San Marco at Buddha Lounge 1974 San Marco Blvd and featuring a dance floor perfect for live music and dancing, beautiful art work with exotic drinks and cuisines
There is a wide range of parties across Jacksonvile on new year's eve, with top venues including MOCA, The Jacksonville Zoo, Adventure Landing, Comedy Club of Jacksonville, The Sheraton Hotel and St Augustine Beach.
For those who manage to avoid too much of a hangover though the biggest party in the area actually takes place on New Years Day, also in Downtown Jacksonville, with the famous Gator Bowl Parade, previously sponsored by Winn Dixie, but now promoted by Taxslayer.com. making its way through the streets to great general acclaim and preceding the big new year game, The Gator Bowl.
The streets in the area fill up early, so be sure to arrive in plenty of time. The New Year parade is one of many that have become a great US tradition over the years, check out some of the most popular ones on our New Year's Day page.
For the big night before though, there is plenty activity in the city to keep you entertained. The Jacksonville Symphony Orchestra will be performing their New Year show at the Times-Union Center for the Performing Arts.
For those looking for somewhere to eat out, there are plenty of local restaurants with special offers for the evening. These include Azurea at One Ocean, Blue Bamboo, Buca di Beppo, Cafe Atlantico, North Beach Bistro and Restaurant Orsay - most cuisines and cultures are represented here as Jacksonville is a particularly cosmopolitan city, and draws influences from a vast range of sources. Check out the full range of Jacksonville restaurants, with full customer reviews, here.
NYE Live Streaming, Webcams
Places to watch live online:
New Years Eve Hotels
For hotels, bed and breakfasts, guest houses and a full range of accommodation across all budget ranges and to cater for most tastes, visit and book local hotels here.
Reviews & Sharing
The content on this page is written and maintained by Martin Kerrigan. If you have found it useful then please feel free to share it with your friends and family. If you have any comments or events to add to this page please Contact us.