Austin New Years Eve 2016
Fireworks, Events, Webcams, Parties, Hotels, Restaurants, Concerts
Austin, Texas, 31 December 2015, Midnight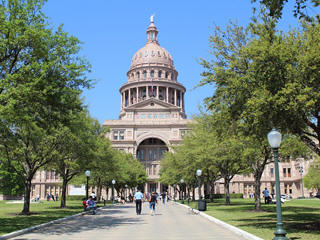 Austin is the state capital of the huge state of Texas and as such lay their claim to the top New Year party with their own iconic event - ANY is the simple acronym for Austin New Year, the public party and celebration held each year on Auditorium Shores with an eclectic offering of family friendly entertainment with live music, food and drink aplenty and of course the spectacular fireworks display.
There may be other larger parties in Texas over the new year period, most notably the Big D NYE in Dallas and the public parties in Houston but the residents of Austin can hold their own with a range of festivites to appeal to all age groups and tastes.
New Year Fireworks, Events, Parties
The big event is the annual ANY, bringing locals and visitors alike to the city's famous Auditorium Shores (South 1st Street and Riverside Drive area) for the evening. This is an alcohol free event to increase the appeal to families, and attracts in excess of 20,000 visitors each year.
The event gets underway at 5pm and includes a full evening of entertainment, with artworks, film screenings and live music. Perhaps somewhat strangely the fireworks finale is actually at 10pm, meaning the event is wrapped up by 10.30 - I guess it means people can go see in the new year with the family and firends elsewhere but it is certainly a little unusual to not save the fireworks for midnight!
There are plenty of hotels in the Auditorium Shores area so you can make sure you don't have to travel far after the event - we can recommend the Radisson Hotel & Suites in Downtown Austin.
Away from the main municipal event, the city of Austin provides a range of events for all tastes with the bars, hotels, clubs and restaurants all throwing themselves into the occasion with great enthusiasm. Top venues for new year 2016 include the fabulous sounding No Cover New Years Eve at Bangers Sausage House & Beer Garden, Totally Awesome 80s at The Austin Roller Rink and an Aerial Spectacular at Austin Music Hall - you can find tickets for all of these events here.
Austin is always a great choice for live music on new years eve and 2015-2016 will be no exception, with country legend Willie Nelson performing at ACL Live, supported by the fantastic Kacey Musgraves. Tickets are available online here.
For those looking for somewhere to dine out, whether as the main party or a precursor to hitting the town, then Austin has plenty of options to choose from too. Top rated eateries include the Moonshine Patio Bar & Grill, Swift's Attic and the Franklin Barbecue, with veggie options at Maoz Vegetarian and The Steeping Room. See the full range of restaurants here.
NYE Live Streaming, Webcams
Places to watch live online:
New Years Eve Hotels
There is no shortage of accommodation in the city. Top hotels in Austin include the Four Seasons, Lake Austin Spa Resort, The Driskill hotel, The Westin Austin at The Domain, W Austin, Mansion at Judges Hill, Barton Creek Resort and Spa, AT & T Hotel and Conference Centre, Hyatt Regency Lost Pines Resort and Spa. For availability and reservations you can book local hotels here.
Reviews & Sharing
The content on this page is written and maintained by Martin Kerrigan. If you have found it useful then please feel free to share it with your friends and family. If you have any comments or events to add to this page please Contact us.