Chicago New Years Eve 2015
Fireworks, Events, Webcams, Parties, Hotels, Restaurants, Concerts
Chicago, Illinois, 31 December 2014, Midnight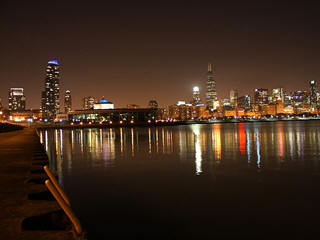 BY MARTIN KERRIGAN
Chicago hosts a number of New Years Eve events across the city, with fireworks displays chiefly focusing on the river, and traditionally centred around the city's famous Navy Pier area, but there are displays to be seen right across the city, with the famous city skyline providing a spectacular backdrop to the pyrotechnics.
Elsewhere, the city's bars and restaurants are packed with revellers, with many taking to the city streets at midnight to pass on their wishes and watch the various fireworks lighting up the Chicago sky. There's no shortage of cultural diversions either, with the city's music venues hosting all flavours of musical entertainment, including everything from hip-hop to classical concerts.
Chicago is now very much towards the top of our personal bucket list and we're hoping to get to spend some time there in 2015 so you can hopefully look forward to our own selection of recommendations in the not too distant future
Fireworks, Events and Parties
The main fireworks display in Chicago at New Years has always traditionally been the official municipal display at the city's famous Navy Pier, which is also the venue for some of Chicago's biggest, longest running and most popular new years parties. This year the fireworks display is sponsored by the Illinois Lottery.
This year you can also enjoy the 2014-2015 Navy Pier Winter Wonderfest, offering a plethora of festive fun including ice skating, live entertainment, an express zip line, climbing wall, inflatable slide and loads more, this looks like an especially good idea for those families with children to entertain.
A highly recommended party this new year's eve is the Big Night Chicago, taking place at the Palmer House Hilton and including all inclusive bars throughout the evening, food buffets, multiple dance floors and party rooms and 10 live bands and DJs, including DJ Steve Smooth and Brody Jenner & William Lifstyle. Get your tickets for this event asap as numbers are limted and they will sell out - online ticket sales here.
The Grand Ballroom at The Navy Pier will be hosting the annual Chicago Resolution Gala, which also provides access to the fantastic views from the Lakeview Terrace, one of the best possible vantage points for watching the fireworks. The event includes premium open bar, stationed buffet and of course champagne at midnight - ticket details to follow.
The InterContinental O'Hare hotel will again be holding their annual New Year's Eve Rock 'N' Roll Ball, with live entertainment, an open bar, and VIP dinner packages.
For live music fans the big party this new year looks to be REACTion New Year's Eve, an event over 2 nights on the 30th & 31st December at the Aragon Ballroom. Headline acts will be Zeds Dead. Get your tickets here.
Chicago's brand new theater space Uptown Underground is also joining the new year party this year with a New Year's Eve Hullabaloo, featuring cabaret performances by Kiss Kiss Cabaret alongside jazz music, comedy magic and burlesque acts in what loks like on eof the most colourful parties in town - get more details and tickets here.
Another option many take up to capitalise on the city's maritime setting is to take a cruise, giving you the opportunity to guarantee yourself an unobstructed vantage point for viewing the fireworks. Most of the local cruise companies have new year's eve special offers, I really like the look of the Mystic Blue fireworks & dinner cruise which includes a premium bar package and fabulous looking menu.
Other cruise offerings that are available in Chicago this new year include the Odyssey Chicago NYE Fireworks Dinner, which includes a DJ, dinner, a premium bar package, champagne toast and fireworks from Navy Pier at midnight and the Spirit of Chicago 2014 New Year's Eve Fireworks Dinner Cruise, which comes complete with dinner buffet, premium open bar, champagne toast at midnight and an intriguing offering of interactive MC entertainment.
If you just want a relatively quieter (and more affordable!) night out then the city's restaurants will be hosting a variety of parties to cater for most budgets. I like the look of MK Chicago as it has my initials, but there are offerings available for all cuisines - check out the Chicago restaurant guide for more details and to make online reservations.
If you're a fan of fine dining and have a sizeable budget to draw upon then Chicago's fantastic 3 Michelin Star venue Alinea has a special New Year's Eve event featuring a special extended tasting menu - tickets are an impressive $445 - secure your table here.
Live Streaming and Webcams
Places to watch live online, including some excellent views of the Chicago city skyline:
Hotels and Accommodation
For a wide range of hotels, guest houses and apartments in Chicago, visit: local hotels here.
Reviews & Sharing
If you have found the content on this page useful then please feel free to share it with your friends and family using the social media sharing tools below:
We're always interested in hearing comments and feedback from anyone who has attended these events, or if you have any information or updates that might be useful for us to add to the page then please Contact us or complete the feedback form below:
Other Popular Locations