Chicago New Years Eve 2016
Fireworks, Events, Live Stream, TV Coverage, Parties, Hotels
Chicago, Illinois, 31 December 2015, Midnight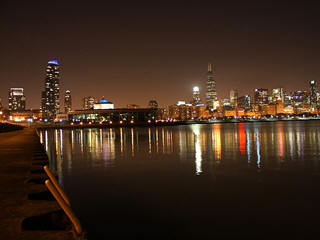 Chicago hosts a number of New Years Eve events across the city, with fireworks displays chiefly focusing on the river, and traditionally centred around the city's famous Navy Pier area, but there are displays to be seen right across the city, with the famous city skyline providing a spectacular backdrop to the pyrotechnics.
Elsewhere, the city's bars and restaurants are packed with revellers, with many taking to the city streets at midnight to pass on their wishes and watch the various fireworks lighting up the Chicago sky. There's no shortage of cultural diversions either, with the city's music venues hosting all flavours of musical entertainment, including everything from hip-hop to classical concerts.
Chicago is now very much towards the top of our personal bucket list and we're hoping to get to spend some time there in 2015 so you can hopefully look forward to our own selection of recommendations in the not too distant future
New Year Fireworks, Events, Parties
This new year sees big changes in Chicago, with an all new large scale celebration being planned with the aim to usurp the supremacy of New York and the Times Square celebrations.
The 6 hour event will take place on the banks of the Chicago River, in the area between Michigan Avenue and Columbus Drive and instead of a ball drop a rising star up the side of the west tower of the Hyatt Regency is set to be the centrepiece of the celebrations. Organisers are hoping to attract a crowd in excess of 100,000 and hope this will just the beginning of a big new Chicago new year tradition.
The event is also expected to include musical performances by top name acts and fireworks launched from the roofs of buildings at key points along the river, one of which is sure to be the Hyatt Regency. One of the headline performers for the event have now been confirmed, spectacularly appropriately, as Chicago. They will also be joined by American Authors. Get more details on Chi Town Rising here.
Latest: Some confusion emerging about whether Chi Town Rising will be the large scale, free event promised, there is now talk of the main stage being moved from Pioneer Court to near the Chicao River and an admission fee being charged, so we would advise you to please check exactly what is going at each venue before turning up. Seems the talk of a crowd of 100,000 may have been wildly optimistic too...
The fireworks at the above new event are expected to be co-ordinated with the established main fireworks at the city's famous Navy Pier, which is also the venue for some of Chicago's biggest, longest running and most popular new years parties.
This year you can also enjoy the 2015-2016 Navy Pier Winter Wonderfest, offering a plethora of festive fun including ice skating, live entertainment, an express zip line, climbing wall, inflatable slide and loads more, this looks like an especially good idea for those families with children to entertain.
A highly recommended party this new year's eve is the Big Night Chicago, taking place at the Palmer House Hilton and including all inclusive bars throughout the evening, food buffets, multiple dance floors and party rooms and 10 live bands and DJs. Get your tickets for this event asap as numbers are limted and they will sell out - online ticket sales here.
The Grand Ballroom at The Navy Pier will be hosting the annual Chicago Resolution Gala, which also provides access to the fantastic views from the Lakeview Terrace, one of the best possible vantage points for watching the fireworks. The event includes premium open bar, stationed buffet and of course champagne at midnight.
For live music fans the big party this new year looks to be REACTion New Year's Eve, an event over 2 nights on the 30th & 31st December at the Aragon Ballroom. The headline acts for this year have been confirmed as Skrillex and Deadmau5, with support from Chance the Rapper, Run The Jewels, CHVRCHES, Cherub, The Floozies. Get your tickets here.
The Promise Ring will also be in Chicago this new year, live at The Metro - tickets here.
If you like live comedy then one of my favourite comedians wil be in Chicago this new year, John Oliver will be live at the Chicago Theatre in a show that is likely to sell out quickly, so get your tickets asap.
Another option many take up to capitalise on the city's maritime setting is to take a cruise, giving you the opportunity to guarantee yourself an unobstructed vantage point for viewing the fireworks. Most of the local cruise companies have new year's eve special offers, I really like the look of the Mystic Blue fireworks & dinner cruise which includes a premium bar package and fabulous looking menu.
Other cruise offerings that are available in Chicago this new year include the Odyssey Chicago NYE Fireworks Dinner, which includes a DJ, dinner, a premium bar package, champagne toast and fireworks from Navy Pier at midnight and the Spirit of Chicago 2015 New Year's Eve Fireworks Dinner Cruise, which comes complete with dinner buffet, premium open bar, champagne toast at midnight. The full cruise range for new year 2016 includes:
Chicago NYE fireworks dinner cruise at Navy Pier - details here
Spirit of Chicago fireworks dinner cruise - details here
Spirit of Chicago new years eve family lunch cruise - details here
If you just want a relatively quieter (and more affordable!) night out then the city's restaurants will be hosting a variety of parties to cater for most budgets. I like the look of MK Chicago as it has my initials, but there are offerings available for all cuisines - check out the Chicago restaurant guide for more details and to make online reservations.
NYE Live Streaming, Webcams
The big new year event on the Chicago River is expected to be screened live by one of the local networks. Official broadcast partners have been announced as NBC 5, Telemundo Chicago (Spanish language version) and iHeart radio. The Channel 5 broadcast is to be hosted by Mario Lopez, assisted by his wife Courtney in the role of co-host.
The live TV broadcast will take place from 11pm to 12.30am, you can watch the NBC coverage live streaming online here:
Coverage from Chicago on new years eve is also provided by the long running Countdown Chicago broadcast on ABC7, hosted by the ever-popular Janet Davies and Mark Giangreco - you can watch this one on their live stream here:
Places to watch live online, including some excellent views of the Chicago city skyline:
New Years Eve Hotels
For a wide range of hotels, guest houses and apartments in Chicago, visit: local hotels here.
Reviews & Sharing
The content on this page is written and maintained by Martin Kerrigan. If you have found it useful then please feel free to share it with your friends and family. If you have any comments or events to add to this page please Contact us.