New Orleans New Years Eve 2018
Fireworks, Events, Parties, Hotels, Restaurants, Concerts
New Orleans, Louisiana, 31 December 2017, Midnight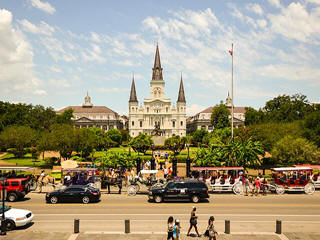 New year's eve in new Orleans this year will be an extra special party, marking the start of the city's tricentennial with a Rockin' New Year's Eve party by Dick Clark Productions, including a live concert an 9 followed by fireworks at midnight.
New Orleans always hosts a fabulous new year's eve party, with fireworks in Jackson Square and iconic events at the Jax Brewery Bar and all along Bourbon Street the focal points of a city-wide celebration.
New Orleans has long been a massively popular new year's eve destination, offering the winning combination of famous sites like the French Quarter, friendly locals, lively parties that last through the night, and of course, spectacular fireworks with the Mississippi River and it's iconic river harbour bridge offering a focal point for some of the most impressive pyrotehcnics in the whole country.
It's a place I've been keen to visit for a number of years, the music and food scene really appeals to my tastes and i can only imagine that new years is a fantastic place to head there, with the streets likely to be absolutely buzzing with locals and visitors, who travel from miles around to be part of one of the liveliest new years eve parties you'll find anywhere.
New Year Fireworks, Events, Parties
New Orleans on new year's eve last year was featured as part of the Rockin New Year party in New York - the highlights carried live to the nation included the Jackson Square fireworks, the fleur de lis drop and performances by the Allstate Fan Fest as part of the annual AllState Sugar Bowl celebrations, and this year they're going one better with their own Rockin' New Year's Eve by Dick Clark Productions to mark the start of the city's tricentennial celebrations.
This event will incldue a live music concert starting at 9pm and of course a spectacular fireworks display at midnight - full detials to follow, but keep up to date on the official 300th anniversary website here.
Elsewhere, the city's famous Jackson Square in the iconic French Quarter is the focal point of the new year's eve party in New Orleans as it hosts the Crescent City Countdown, featuring live music from local acts, followed by the famous and unique fleur-de-lis drop, recognising the city's French heritage. The climax of the event is of course the spectacular fireworks display over the mighty Mississippi.
One of the best spots for viewing the fireworks is Crescent Park, which has great views over the city and stays open until 1am specially for the occasion.
Perhaps somewhat bizarrely, midnight is also marked by the lowering of a giant model of a baby, the Baby Bacchus from the roof of the Jackson Jax Brewery Bar, an interesting twist on the traditional ball drop.
Throughout the evening there is a huge party centred on Bourbon Street, also in the French Quarter and site of an almost bewildering array of bars, clubs and restaurants. This street is renowned as a party mecca and on new year's eve coach parties will arrive from hundreds of miles in every direction to join the party. Top recommended bars includes the famous Old Absinthe House and Lafitte's Blacksmith Shop, which dates right back to 1722 and is reputed to be the oldest bar in the United States.
For live music there is always plenty going on in New Orleans as you migt expect. One of the top shows this year sees local band The Revivalists return to their home town for 3 shows at the Orpheum Theater, running from 29-31 December. You can buy tickets for any of these nights online here.
For comedy fans, a big event in NOLA this new year's eve sees Amy Schumer performing live at the Mahalia Jackson Theater. Tickets are available via Ticketmaster.
The New Orleans hotels of course also compete for their slice of the action, with one of the biggest events the now famous Big Night New Orleans at the Hyatt Regency, This premier gala event has open bars all night, international buffets and dance floors spread across multiple floors. Midnight is market with champagne and a huge balloon drop.
There is also typically a top new year's eve party in the French Quarter at Pat O's On The River, where they are have a premium location overlooking the Mississippi River with an incredible view of the fireworks, and also offer live DJ, special cocktails and an open bar.
New Years Eve cruises on the Mississippi river are enduringly popular too, giving you fantastic views of both the city skyline and the river bridge. One boat offering this for NYE 2018 is the city's only remaining traditional river steamer, the Steamboat Natchez
There is also a very popular New Year's Eve Fireworks Cruise on board the Creole Queen Paddlewheeler, where the evening includes a live DJ, late night buffet, champagne and festive party favours - reserve your place for this party here.
For fans of American football if you don't have too much of a hangover there is also the Sugar Bowl to look forward to early in the new year, taking place at the city's iconic Mercedes-Benz Superdome.
NYE Live Streaming, Webcams
The increased availibility of online streaming makes watching the New Orleans new year's eve celebrations and fireworks much easier these days, with local TV networks now frequently available online, as well as the fact New Orleans is blessed with an excellent range of live streaming webcam views in key locations across the city.
Find out where to watch the NOLA new year party and fireworks on our dedicated page here:
You can also see a wider range of live streaming online coverage from new year fireworks and parties around the world in our brand new Live Streaming section.
New Years Eve Hotels
If you're planning on visiting New Orleans over the New Year period, then early reservation is strongly recommend. You can search, check availability and book local hotels here.
Popular Pages
The content on this page is written and maintained by Martin Kerrigan. If you have found it useful then please feel free to share it with your friends and family. If you have any comments or events to add to this page please Contact us.