Asia New Year's Eve 2019
Fireworks, Events, Parties, Hotels, Restaurants, Concerts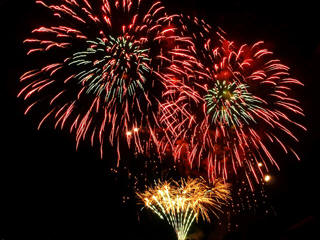 New Years Eve celebrations in the countries of Asia are more traditionally associated with the Chinese New Year (which in 2018 will fall on February 10th - check back on this site closer to the time for more details, we're planning on adding a new section specifically for the Chinese New Year, or CNY as it is commonly abbreviated) but there are still widespread celebrations to mark the Gregorian new year, and not just in the expat communities.
In Taiwan (or more properly the Republic of China or ROC) the new year is commonly celebrated with huge live concerts - the main cities to hold these events include Taoyuan, Taichung, Taipei, and Kaoshiung.
In more recent times the country is also embracing modern technologies to help communicate between cities using live video streaming, which allows cities in diverse locations across a vast country to join the count down together. The most crowded city is the capital, Taipei, where large crowds head to Taipei 101 and the multitude of modern shopping centers of the Xinyi District.
In Thailand the the traditional New Year is known as Songkran and falls on April 13 or April 14. However, they also celebrate the Gregorian New Year on January 1. In cities right around the country, celebrations of the New Year is accompanied by countdowns, fireworks, and concerts, notably, the CentralWorld Square at CentralWorld in downtown Bangkok, Surin Beach on the popular holiday island of Phuket and Pattaya Beach in Pattaya, while local hotels, pubs, restaurants and nightclubs will also join in the festivities by hosting New Year's Eve parties.
Top Locations
GMT+9
GMT+8.5
GMT+8
Bali, Hong Kong, Kuala Lumpur, Manila, Perth, Shanghai, Singapore, Taipei
GMT+7
Bangkok, Hanoi, Jakarta, Phuket
GMT+5.5
GMT+5.5
GMT+4
Latest NYE News
The content on this page is written and maintained by Martin Kerrigan. If you have found it useful then please feel free to share it with your friends and family. If you have any comments or events to add to this page please Contact us.