Hanoi New Years Eve 2019
New year's 2018-2019 Countdown Party, top bars, hotels & restaurants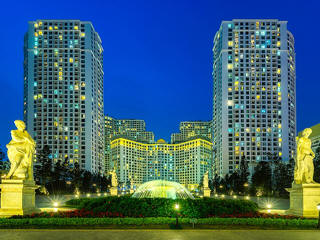 Hanoi on new year's eve is marked be a series of large, and very noisy parties right across the city as locals and visitors gather to welcome the new year in style. There has traditionally been large scale fireworks displays too but recent years have seen this curtailed as an austerity measure - see below for more details.
The new year's eve party at the end of December is not to be confused with the Tet Eve celebration, the Vietnamese equivalent of the Chinese new year, that date of which is controlled by the lunar calendar and generally falls some time in late Januarty through to mid February.
Things to do
As we mentioned above, Hanoi has in previous years held a large new year's eve fireworks display, but the government put a stop to this for new year 2018 and it is likely this will remain the case this year. We will of course update you if this changes.
The cancellation of the new year fireworks didn't just affect Hanoi but was a country wide restriction, with previous popular displays in Da Nang and Ho Chi Minh City also cancelled.
This doesn't mean there's nothing to do though, Hanoi still provides a plethora of new year party options. One big regular event is the exceptionally loud New Year Countdown Festival held each year at the Ly Thai To Flower Garden, featuring both live music and contemporary dance performances.
Heineken Countdown Party
There is also a large new year countdown party, currently sponsored by Heineken, held at Dong Kinh Nghia Thuc Square, adjacent to the Old Quarters night market. This party features top live performances and local DJ sets as well as spectaculat visual lights displays.
Another big event is the Bia Saigon Countdown Party that takes place right in front of the Hanoi Opera House at Cach Mang Thang Tam Square, and again features a combination of live singers and DJs.
In the bars and clubs of Hanoi there are a huge range of parties to choose from - top venues to look out for include Hanoi Creative City, Tadioto and Hanoi Rock City.
NYE Live Streaming, Webcams
With a lack of fireworks there's little chance of live coverage this year I'm afraid.
New Years Eve Hotels
There is no shortage of top quality hotel accommodation in Hanoi, with the added bonus that many of the most popular places also host excellent new year's eve parties of their own. Venues that you can stay and also enjoy a party without having to leave the comfort of your hotel include the JW Marriott Hanoi, Pan Pacific Hanoi, the Hilton Hanoi Opera and the Sofitel Legend Metropole on Ngo Quyen.
You can search for deals at all of these venues, plus other local hotels here.
Latest NYE News
The content on this page is written and maintained by Martin Kerrigan. If you have any comments or events to add to this page please Contact us.