Goa New Years Eve 2019
Fireworks, Events, Parties, Hotels, Restaurants, Concerts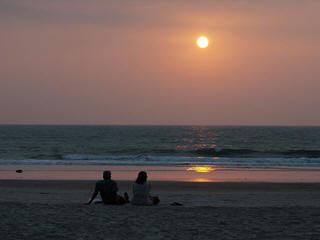 One of the less obvious destinations for a New Year party, Goa nevertheless has everything you would hope for with balmy weather, lively yet comparatively restrained parties, lovely beachfront setting, and of course a genuinely friendly welcome. In terms of prices it is also one of the more reasonable destinations, certainly when compared with more traditional and iconic holiday destinations such as Sydney or New York.
I have to be honest it's the distances and expense involved in getting there that have put me off from visiting Goa to date, but if you go for a decent length of time the lower cost of living probably evens things out, so will definitely have to try and incorporate it into an Asian tour some time soon, and if I could time it to be in Goa for the new year's eve party then so much the better!
Things to do
The main party is centred on Anjuna Beach, and don't worry if you've seen and heard negative things about beach parties on the wild islands of Thailand, this is a much more relaxed and chilled out scene, although the proliferation of backpackers does still mean a big party that will last well into the next day.
Around the Goa area there are a number of top hotels, and they compete with the bars and restaurants to get the most visitors in for their new year parties. Among the top events to look out for for NYE 2019 are:
- New Year Party at The LaLiT Golf & Spa Resort Goa
- The Grand Hyatt Goa, Bambolim
- Z-Rooftop Lounge Bar & Grill, Vasco Da Gama
- The Park Hyatt Goa Resort & Spa, Arrosim Beach
If you want somewhere quieter and perhaps a little more personal for a new year celebration then Goa has an enormous amount of beaches where you're sure to be able to find a secluded spot to yourself, Many of the locals will light bonfires on the quieter beaches for the evening and get together with their friends and family for a low-key party and BBQ, but with so much beach space to choose from you should always be able to find a peaceful spot all to yourself.
Places to check include Dona Paula Beach, Agonda Beach, Calangute Beach, Miramar Beach, Palolem Beach, Bogmalo Beach, Beach Baga and Chapora Beach.
For your new year dining options, most visitors will be catered for by their hotel, but if you're travelling independently or just prefer to make your own plans there are more than enough choices to satsify most palates. Highly recommended are Chef Soumyen's Kitchen in Calangute, Blue Planet Cafe in Agonda and Cavatina in the Salcette District. Check out all the Goan dining options here.
NYE Live Streaming, Webcams
OK, so far we haven't been able to locate any webcams in Goa, which seems a little unusual to be honest, so if you're aware of any please Contact us using the contact details at the bottom of this page to let us know.
New Years Eve Hotels
If you're planning on visiting Goa over the New Year period, then early reservation is strongly recommend. You can search, check availability and book local hotels here.
Latest NYE News
The content on this page is written and maintained by Martin Kerrigan. If you have found it useful then please feel free to share it with your friends and family. If you have any comments or events to add to this page please Contact us.