Bali New Year's Eve 2019
Beach parties, fireworks and luxury hotels & dining for new year's 2018-2019 in Bali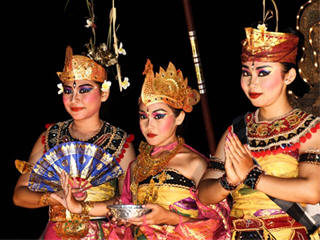 Bali on new year's eve is all about the beach parties, with large crowds of locals and tourists heading to the island's many great beaches to greet the new year with bonfires, dancing and fireworks.
if you are visiting Bali over the festive season then this fabulous island offers you a great selection of activities, ranging from spa retreats, canyoning, volcano tours, hiking, visiting Balinese temples, theatrical shows, waterparks, a visit to the island of the dead at Trunyan Island.

Bali is exceptionally popular with young visitors from Australia in particular so you're pretty much guaranteed a lively and welcoming atmosphere.
Kuta Beach Party
If you're in Bali, then you have to head to Kuta Beach where thousands of people gather for New Year, not only does it hold a beach parade in the afternoon but morphs into party central for those looking to celebrate and have a good time.
Puputan Badung Square New Year Festival
Or make your way to Puputan Badung Square for the New Year festival where you'll find crowds gathering for the carnival, countdown and an epic firework display.
The area is also packed with great clubs that offer glam new years eve events for those who want to party in style, you'll need to make sure you book your tickets in advance, these places will sell out pretty quickly.
Bedugul Botanical Garden
Looking for something a little more low key, then perhaps Bedugul Botanical Garden might be for you, a little peace and tranquillity to ease into the new year.
New Year Dining
Bali really has some spectacular and unusual dining options so you can really have some memorable evenings:
Kubu at Mandapa
Restaurant Bukit Segara
Swept Away at The Samaya Ubud
CasCades Restaurant (Ubud)
Bambu Restarant
New Years Eve Hotels
Keep in mind that on new years in Bali you could always just stay in your hotel, as many of the big resorts will have their own events planned that you may enjoy without venturing far from your room!
Remember to choose well with your accommodation and make sure you're pretty close to where you want to be on New Years Eve, you will be overwhelmed by the choice of stunning hotels that Bali has to offer:

The One Villa
The Kunja Villas & Spa
The Kayon Resort
Viceroy Bali
Royal Tulip Visesa
Bali is jam packed a this time of year and be prepared for traffic jams etc, try and make sure that you've got your accommodation within walking distance to your planned party destination.
You can search for deals at all of these venues, plus other local hotels here.
NYE Live Streaming, Webcams
If you're looking to check out the new eyar celebrations in Bali live then the area is well served with some live streaming webcam views that can take you right into the very heart of the action.
One of our favourites is this great live webcam for Kuta beach here:
Latest NYE News
The content on this page is written and maintained by Yvonne Kerrigan. If you have any comments or events to add to this page please Contact us.