Tokyo New Year's Eve 2019
Find Tokyo's top NYE parties, events, hotels & restaurants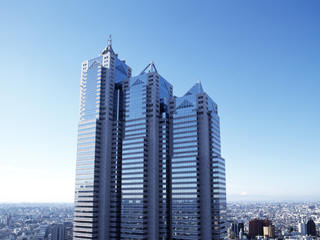 The Japanese can take credit for being one of the first countries anywhere to make use of fireworks, so it's perhaps a little surprising that there is no planned fireworks display on new year's eve, with Tokyo instead holding a number of parties on NYE in the city's many bars, hotels and restaurants.
It does make it especially important to make your plans well in advance though, this isn't a place you can just turn up on the day and expect to walk into the best parties, you'll need to have a pretty well sorted agenda along with all the requisite tickets, directions and travel arrangements well before you arrive.
New Year Traditions
As we mentioned above, there are no specific new year's eve fireworks in Tokyo. An exception to this is if the day happens to fall on a Saturday, in which case the Tokyo Bay weekend fireworks show takes place at 7pm.
The Japanese name for New Year is Shogatsu, and it is one of the biggest nights of the year across the country. One popular tradition unique to the place is that of hatsumode, where people make their first visit of the year to their local shrine or temple.
At midnight the temple bell is then rung 108 times for the crowds to celebrate the arrival of the new year - the city's most popular shrines are visited by well over a million people over the new year period.
Generally all of this means that new year's eve in Tokyo is more of a quiet family event than you might find in other major capital cities, but there is still some more lively nightlife if you look for it - the Shibuya and Shinjuku areas are the places to head for to find a party.
Another iconic Tokyo location is the famous scramble crossing in the Shibuya district, which will be once again closed to traffic to help ease congestion among the huge crowds on new year's eve.
Park Hyatt New Year Party
One very popular new years party takes place at the Park Hyatt Tokyo, who will once again be hosting their Countdown Lounge at The Peak Lounge & Bar to welcome 2019. This event features big name performers Dimitri from Paris and DJ Sarasa to provide the live music alongside plentiful champagne and stunning skyline views. Get more details and online ticket sales here.
Skytree NYE
A relatively new addition to the Tokyo skyline is the Skytree, which opened in May 2012 and is now officially the tallest tower in the world. It includes a restaurant and observation tower, with the Tembo Galleria sky walk giving fantastic panoramic views across the city to all sides. It seems certain to be a popular new year destination - get your Skytree tickets here.
Countdown Japan Festival
For music fans the big event in Tokyo at this time of year is the huge Countdown Japan music festival, which takes place across 5 stages over 4 days from the 28th December right through until the 31st - get more details, including the full lineup and online ticket sales here.
Hakone Ekiden
If you're of an athletic persuasion then you might like to hang around until the 2nd January for the Hakone Ekiden, an extremely tough but very popular endurance event that takes place over 2 days and 135 miles from central Tokyo out to the iconic Mount Fuji. The race involves relay teams of 10 runners and is the largest annual sporting event anywhere in Japan.
New Year's Eve Hotels
If you're planning on visiting Tokyo over the New Year period, there are plenty of venues to choose from and an early reservation is strongly recommended.
One of the best choices to stay is the Ritz-Carlton, which hosts a series of special events and dinners throughout the festive season.
You can search, check availability and book local hotels here.
NYE Live Streaming, Webcams
There may not be a spectacular fireworks show to watch, but the city skyline of Tokyo is always worth checking out and there are some live stream webcams with fantastic views of the city:
Latest NYE News
The content on this page is written and maintained by Martin Kerrigan. If you have found it useful then please feel free to share it with your friends and family. If you have any comments or events to add to this page please Contact us.