Pyongyang New Year's Eve 2019
Fireworks, Tours, Events, Traditions, Hotels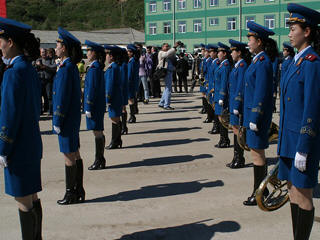 North Korea, or to give the full official title the Democratic People's Republic of Korea, or DPRK, might not be your first choice for somewhere to spend your new years eve, but thanks to an increasing range of organized tours it is now actually possible to visit the country for a new year holiday. We do stress though, independent travel here is not an option under any circumstances, see the official tour options listed below if you really wish to do something a little different this new year's eve!

In terms of new year entertainment, there are still plenty of things to do, including typically a new years eve fireworks display in Pyongyang, this won't be on the same spectacular scale of the likes of Sydney, London or Dubai but is it always nice to have some pyrotechnics to mark the occasion.

There are actually 3 different new year celebrations in Pyongyang each year, the global Gregorian event at the end of December, the Lunar new year often most commonly known as Chinese New Year, and an additional Juche New Year, based on the North Korean calendar, which started with the birth of the country's founder Kim Il Sung. This event therefore falls on April 15th, his birthday.
Things to do
The new years eve party in Pyongyang is centred on Kin Il Sung Square, where huge crowds of locals gather to celebrate. At midnight the iconic Taedong Bell sounds and fireworks are launched from the area around the Juche Tower, and can be viewed all along the river.

As we mentioned above, if you do wish to visit Pyongyang for new years eve then you must do so as part of a properly organized and officially approved tour.

Some options to consider include:

Koryo Tours New Year's Eve Tour

Includes 5 nights in the DPRK. Includes flights, accommodation and visits to Kumsusan Memorial Palace, Victorious Fatherland Liberation Way Museum and the Panmunjom/DMZ border with South Korea. Get more details here.

Korea Konsult 2019 New Year Tour

Also includes 5 nights in North Korea, with new year fireworks in Pyongyang and a visit to the DMZ as well as trips to the ancient capital of Korea at Kaesong and Mt Myohyang for the International Friendship Exhibition. Accommodation is at the Yanggakdo International Hotel. Get more details and a full itinerary here.
NYE Live Streaming, Webcams
Pyongyang is possibly one of the last places you would expect to find live steaming coverage or any event, but last year there was actually a live online stream available of the new year fireworks, so if this is repeated again for new year 2019 we will provide the link right here.
New Year's Eve Hotels
As with the tours, independent hotel booking isn't really an option in Pyongyang, if you are visiting, be sure stay where your official tour takes you.
Latest NYE News
The content on this page is written and maintained by Martin Kerrigan. If you have any comments or events to add to this page please Contact us.