Phuket New Year's Eve 2019
Guide to new year's eve in Phuket - beach parties, fireworks & hotels for NYE 2018-2019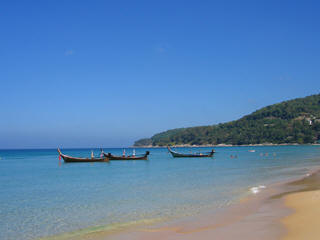 The Thailand island of Phuket likes to party at the best of times so come New Years Eve they just have an additional excuse that they really don't need. From beach parties to exclusive all inclusive hotel gala balls there is something for everyone on this paradise island, and for NYE 2019 there's a wide range of popular events.
Surin Beach in particular has become something of a stop off on the celebrity circuit, boosted by the regular visits and parties hosted by Paris Hilton, who also seems to have selected this as her preferred spot to see in the new year. We have visited Phuket in the last, but not at this time of year so definitely have it on the list to enjoy the new years eve party at least once some time in the future!
Surin Beach Party
The biggest party on Phuket in previous years has been the Surin Beach party, although in recent years organisers were forced to move the venue to Patong after encountering local objections.
Twinpalms Phuket New Year Beach Party
This year there will be a major event taking place at the iconic and famous Twinpalms Phuket Resort, where the New Year's Eve Beach BBQ gets underway at 8pm and is immediately followed by the New Year's Eve Countdown Beach Party at the resort's Bimi Beach Club, where cocktails will be served at the hotel's private beach bar with a magnificent all you can eat buffet being served before everyone heads to the waters edge to watch the firework display.
The same resort has events in it's different locations throughout the evening - these also include a Countdown beach party at the Catch Beach Club and a gala dinner complete with champagne and chocolate fountain at the Oriental Spoon restaurant. For those still standing there are also a series of festive events on new year's day. Get all the latest details here.
Regent Hotel New Years Eve Celebration
The Regent Hotel at Cape Panwa is this year holding a new year's eve celebration, the special evening includes a gala dinner, a live DJ throughout the evening and of course a fireworks display at midnight - book your place at this party here.
Haad Rin Beach Party
Across the other side of Thailand, the Haad Rin beach at Koh Phangan, famous for the monthly full moon beach parties that draw backpackers from around the globe, also hosts a similarly raucous new years eve party (there's also an event on 25th December to celebrate Christmas)
NYE Live Streaming, Webcams
Places to watch live online:
New Years Eve Hotels
Phuket accommodation is internationally renowned not only for its quality and attention to detail, but also for the affordable nature of the real top end establishments - 5 star hotels in Phuket are available at prices that wouldn't get you into a 3 star in a lot of top US or European cities.
Check out the full range and make your online reservation for local hotels here.
Latest NYE News
The content on this page is written and maintained by Martin Kerrigan. If you have found it useful then please feel free to share it with your friends and family. If you have any comments or events to add to this page please Contact us.