Taipei New Years Eve 2019
Fireworks, Events, Parties, Hotels, Restaurants
Taipei, Taiwan, 31 December 2018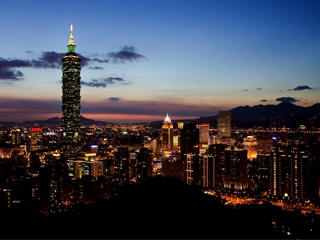 Should you be planning on spending this new year in Taipei, then make sure you get out there and explore this wonderful place. From hiking up Elephant Mountain for some epic views to sampling a variety of delicacies in Taipei's Night Markets!

There are many stunning temples to visit, like the exquisite Taipei Confucius Temple or the impressive Hsing Tian Kong. Perhaps you want to visit the "meeting place of the Gods" which is Lungshan Temple in the Wanhua District, one of the city's oldest temples.

Visit Chiang Kai-Shek Memorial Hall which is surrounded by beautiful gardens and walkways, the National Concert Hall and National Theater. If you time it right you might catch the changing of the guard which is a great experience.

If you are looking for some great views, then a visit to one of the world's tallest buildings Taipei 101 could be for you. It has an observation deck with a 360 degree view which is quite impressive, especially on a clear day.

Soak away all the stresses of the day or unwind after your long journey by visiting Beitou hot springs where there are outdoor public hot springs and also many of the hotels do private spas in the style of old Japanese bath houses.

You must make time to visit Shilin Nightmarket so you can sample some of Taiwan's delicious cuisine and peruse some of the stalls and shops in the surrounding streets perfect for souvenir shopping and grabbing some bargains. The best time to visit is around 7pm onwards to get into the hustle and bustle of the market.

Another great nightmarket to try out and grab some food and retail therapy is Ximending in the Wanhua District, very close to Taipei 101. One thing to note, when it comes to food in Taipei, if there is a queue for a particular place, join it!
Things to do
The people of Taipei are determined to make the city the best place in the world for New Years Eve! They have the Taipei 101 building in the Xinyi District as their countdown clock and each floor is lit from the bottom to the top followed by an amazing firework display and entertainment. There are celebrities and pop stars invited to perform on stage in the square at City Hall and there are thousands of people gather here to celebrate the new year!

If you don't fancy the crowds near Taipei 101 then you can get great views from more quiet areas of the city as the building dominates the city skyline and can be seen for miles!

If you are feeling fit, you can climb to the top of Elephant Mountain, catch the sunset and settle in for the evening as the view over to Taipei 101 is fantastic, however, this particular viewing spot gets busy very early in the day, so you do need to get there really early to grab a good space.

Miramar Entertainment Park hosts another New Years Eve celebration that attracts over 100,000 people with its' giant ferris wheel, shops and entertainment complex, it remains open until 1am on New Years Eve! It has an impressive fireworks display at midnight.

You can also venture to some of the many riverside parks that are great for watching the fireworks. To watch the Taipei 101 display head to Rainbow Riverbank Park and if you want to watch the Miramar display then head to Meiti Riverside park. If you happen to want to watch both then Guanshan and Yingfeng Riverbank Parks would be your best options.
Hotels, bars and restaurants will have New Yeas Eve special events planned, with many of the larger hotels having fabulous views over the city, you'll want to book well in advance to make sure you get prime position! Have a look at some of these restaurants to get your tastebuds tingling.

Yen Chinese Restaurant
Chamonix Teppanyaki - Taipei Zhongshan N.Branch
Toutouan Kaiseki Restaurant
The Dragon - Sheraton Grand Taipei Hotel
Shinyeh Dining - Taipei 101
NYE Live Streaming, Webcams
I can't find any useful webcams at the moment, but we'll keep checking!
New Years Eve Hotels
Many of the hotels in Taipei have glorious views over the city, perfect for viewing the fireworks! These rooms will be booked up very quickly, so make your reservations asap for a fantastic New Year:

Regent Taipei
W Taipei
Taipei Garden Hotel
Grand Hyatt Taipei
Shangri-La's Far Eastern Plaza Hotel Taipei
To check availability and make reservations at these and all the top hotels in the area, you can make online bookings here.
Latest NYE News