Bangkok New Years Eve 2018
Fireworks, Events, Webcams, Parties, Hotels, Restaurants, Concerts
Bangkok, Thailand, 31 December 2017, Midnight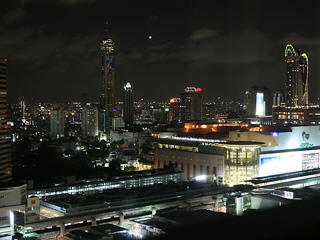 The capital city of Thailand, and one of the most populous cities in the world, Bangkok holds a serious new years eve party every year, and 2018 is sure to be no exception with a range of events to cater for all tastes, including river cruises, hotels parties, bar and restaurant theme nights all leading up to the midnight countdown and the associated fireworks display which will light up the skies for miles around.
My previous experience of Bangkok is limited to passing through on a flight from the UK to Australia but even in that short visit I was stunned by the sheer scale, noise and activity of the place, so I can only imagine that on a huge day like new year's eve this will be magnified even further, so if you're headed there this year make sure you're fully prepared for the experience!
New Year Fireworks, Events, Parties
The focus of much of the celebratory highlights is the Central World shopping plaza, which boasts a reputation for currently being the 3rd largest in the whole world! In front of it is the Central World Square, where the crowds will gather from early evening to enjoy the building atmosphere leading up to the explosive fireworks at midnight. The event includes an open air beer garden, a large screen which shows the countdown from other places in the world during the buildup, so you won't miss out on seeing the spectacular Sydney Harbour fireworks among others.
Elsewhere, many of the city's top nightspots will be holding events to remember. The Imperial Queen's Park Tower usually hosts the biggest rooftop party in Bangkok with live music, food and drink in it's signature restaurants and it is certainly ideally positioned to provide superb panoramic views of the city skyline come midnight, including their very own Imperial Fireworks Show.
Other locations with rooftop gardens where you can dine and get drinks with some of the best vantage points are Red Sky at Centara Grand and Vertigo. Also popular rooftop options are Above 11 and Cloud 47, the names of which give subtle hints as to their highlights!
Another top recommendation is the The Dome at Lebua, which has now introduced it's very own Ball Drop event, and actually now has the distinction of being the highest anywhere in the world, surpassing even New York's Times Square version! The Bangkok Ball hosted at The Dome can be seen for around a mile across the city but the best views are from the elevated bars and restaurants at Lebua itself - Sirocco and Sky Bar (on the 63rd floor) Mezzaluna (even higher, at 65 floors up) Breeze (52nd floor) and Distil.
The bar and club scene in Bangkok is always buzzing, but for the NYE party they aim to crank it up yet another notch. Best areas to head towards are the clubs and bars at RCA, Silom or Khao San Road. There is also a good selection of outdoor bars in the Thonglor district of the city, a little more upmarket than the others.
River cruises are especially popular in Bangkok at this time of year, representing an excellent escape strategy from the omnipresent land-based crowds, one of the most popular options is the Loy Nava River cruise on the Chao Phraya River, which offers a traditional dinner by candlelight and live netertainment on board this traditional teakwood rice barge.
If you like to take in some more relaxing scenery back on land then new year's eve and new year's day are a great time to visit one of the country's many national parks, where entrance is being offered for free on both days this year.
When is comes to eating out, the restaurants on Bangkok offer so much more than Thai cuisine these days, although of course there is plenty of that in evidence, especially at Nan Gin Kui and Sirocco at Lebua. International options are plentiful though, from burgers at Papa's Kitchen to steak at Colors Cafe and French at Le Normandie Restaurant at Mandarin Oriental. You can check out the full range of options, including many customer reviews here.
NYE Live Streaming, Webcams
Places to watch live online:
New Years Eve Hotels
Thailand's hotels are many and varied in terms of price and quality, and in Bangkok this polarisation is amply modified. We advise you to book well in advance to secure a decent location. Check availability and book local hotels here.
Popular Pages
The content on this page is written and maintained by Martin Kerrigan. If you have found it useful then please feel free to share it with your friends and family. If you have any comments or events to add to this page please Contact us.