Bangkok New Year's Eve 2019
NYE in Bangkok; top parties, restaurants, fireworks displays and events for new year 2018-2019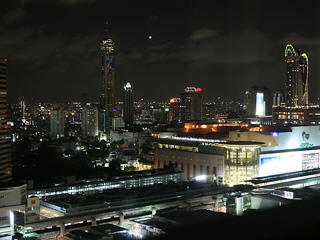 Bangkok is as lively as you would expect on new year's eve, with the city's top hotels and restaurants hosting a great range of parties, while the fireworks at midnight can be viewed for miles around.
Here we've collated our top recommendations on where to spend your new year in Bangkok, how to find the best fireworks views and a selection of the top restaurants hotels.
Central World New Year Party
The focus of much of the celebratory highlights is the Central World shopping plaza, which boasts a reputation for currently being the 3rd largest in the whole world! In front of it is the Central World Square, where the crowds will gather from early evening to enjoy the building atmosphere leading up to the explosive fireworks at midnight.
The event includes an open air beer garden, a large screen which shows the countdown from other places in the world during the buildup, so you won't miss out on seeing the spectacular Sydney Harbour fireworks among others.
Other locations with rooftop gardens where you can dine and get drinks with some of the best vantage points are Red Sky at Centara Grand and Vertigo. Also popular rooftop options are Above 11 and Cloud 47, the names of which give subtle hints as to their highlights!
Imperial Queen's Park Tower Rooftop Party
Elsewhere, many of the city's top nightspots will be holding events to remember. The Imperial Queen's Park Tower usually hosts the biggest rooftop party in Bangkok with live music, food and drink in it's signature restaurants and it is certainly ideally positioned to provide superb panoramic views of the city skyline come midnight, including their very own Imperial Fireworks Show.
The Dome at Lebua
Another top recommendation is the The Dome at Lebua, which has now introduced it's very own Ball Drop event, and actually now has the distinction of being the highest anywhere in the world, surpassing even New York's Times Square version! The Bangkok Ball hosted at The Dome can be seen for around a mile across the city but the best views are from the elevated bars and restaurants at Lebua itself - Sirocco and Sky Bar (on the 63rd floor) Mezzaluna (even higher, at 65 floors up) Breeze (52nd floor) and Distil.
NYE River Cruises
River cruises are especially popular in Bangkok at this time of year, representing an excellent escape strategy from the omnipresent land-based crowds, one of the most popular options is the Loy Nava River cruise on the Chao Phraya River, which offers a traditional dinner by candlelight and live netertainment on board this traditional teakwood rice barge.
Restaurants
When is comes to eating out, the restaurants on Bangkok offer so much more than Thai cuisine these days, although of course there is plenty of that in evidence, especially at Nan Gin Kui and Sirocco at Lebua. International options are plentiful though, from burgers at Papa's Kitchen to steak at Colors Cafe and French at Le Normandie Restaurant at Mandarin Oriental.
You can check out the full range of options, including many customer reviews here.
New Years Eve Hotels
There are many hotels to choose from in Bangkok, and we have already detailed some of our favourites above, most notbaly those where new year packages are available to include accommodation, dinner and entrance to the NYE party.
You can check availability at all of these venues, and book all the top local hotels here.
NYE Live Streaming, Webcams
There may well be live TV coverage of the Bangkok new year fireworks, and we will post any links here that we manage to locate.
In the meantime, there are several excellent live streaming webcam views available across the city, inclduing soem skyline shots that should capture decent fireworks views:
Latest NYE News
The content on this page is written and maintained by Martin Kerrigan. If you have found it useful then please feel free to share it with your friends and family. If you have any comments or events to add to this page please Contact us.