Best New Year 2019 Events in Jakarta
Find fireworks, NYE events, parties and restaurants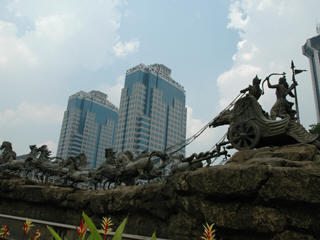 Jakarta on new year's eve sees a wide and diverse range of parties and celebrations to help keep the city's massive population entertained as they welcome the new year.
Jakarta is home to 28 million people, which makes for a pretty big party - I musrt confess I knew that Indonesia has a pretty huge population spread out over it's many islands but really didn't expect to find more than 10% of it in a single city, which is a huge concentration into a relatively small area.
On further investigation I found that new year's eve is indeed a pretty big deal in Jakarta, I guess with that many people it would have to be, and the city's central areas are renowned for getting extremely congested on NYE. So hopefully I'll be able to list the information on this page to direct you around the crowds as much as possible and dig out some special parties and events - probably not the beach type party you would expect in Bali, but the big city of Jakarta looks a pretty good alternative.
Things to do
It seems there are several fireworks displays across the metropolitan area, and come midnight you can expect to see the skies lit up in many different locations. The biggest displays are typically those at the Carnaval Beach in the luxury Ancol Dreamland resort, Jakarta's answer to Disneyland, at the Mercure hotel in Ancol and at the La Piazza Shopping centre at the famous Kelapa Gading Mall.
Elsewhere most of the larger shopping malls and several of the main hotels, especially the international chains will also be launching their own fireworks. A good tip is to look out for those places which have rooftop gardens, as these are a favourite launching spot in the city.
Throughout the evening the crowds tend to gather in the areas around the city's iconic Selamat Datang Monument, where there will be street vendors, live music and entertainers to celebrate the occasion. The National Monument, or Monas park is another popular gathering point.
If you're looking for somewhere to eat out then you'll be spoiled for choice in Jakarta, with literally thousands of restaurants to choose from, most of which will have special deals and parties available for new years eve. Asian cuisine is obviously the speciality, but there's a surprising range of alternative, with Italian and Spanish food especially well represented. Check out the full range of Jakarta restaurants here.
NYE Live Streaming, Webcams
There aren't a great many live views that we've been able to find - if you're in Indonesia then the local TV channels tend to provide good coverage of the fireworks, otherwise the best bet will be to try checking out the local webcam views:
New Years Eve Hotels
If you're planning on visiting Jakarta over the New Year period, then there are some good deals to be had, with prices pretty reasonable compared to the equivalent offerings in Europe or North America, and even compared wioth the more touristy Bali. You can search, check availability and book local hotels here.
Latest NYE News
The content on this page is written and maintained by Martin Kerrigan. If you have found it useful then please feel free to share it with your friends and family. If you have any comments or events to add to this page please Contact us.