Perth New Year's Eve 2019
Top new year celebrations, events, restaurants & hotels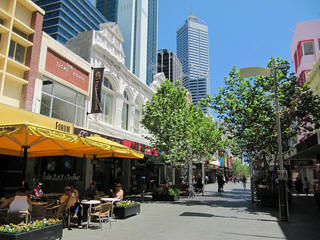 Perth is renowned for being the most geographically isolated major city anywhere on the planet, so if you're spending new year's eve here then I guess you really meant to be there, not exactly the kind of place you end up on a whim or by accident.
It's actually the only one of Australia's major cities I've yet to visit in person, though to be honest Western Australia is right at the top of the bucket list, just as soon as funding allows! The lack of major public fireworks in the city itself is something of a surprise, they've perhaps decided trying to compete with Sydney is pointless, but in any case they save themselves for the huge Perth Skyworks spectacular on Australia Day, so if you're in the area that's well worth sticking around for.
Things to do
As mentioned above, there isn't a major public firework display in Perth on new year's eve, although if you can wait a few weeks it's Australia Day on the 26th January and their fireworks then are the biggest in the country.
This does though mean that if you're intent on seeing some NYE pyrotechnics you'll have to wander a little further afield - the closest decent display is down the coast at Mandurah, where there are shows at both 9pm and midnight. It's over 70km away, which might sound a lot but on a Western Australian scale is just round the corner!
The lack of fireworks doesn't means there's nothing to do at new years though, and Perth has plenty else to offer. The Northbridge area is especially popular with locals and visitors as the close of several streets and put on live music and entertainment in the city's biggest street party, with a crowd of around 15,000 revellers expected to attend this year.
One big event in Perth each year is the New Year's Eve Vienna Pops Concert at the Perth Concert Hall, which this year is taking place for the 28th occasion - lineup and ticket details to follow.
Perth is also embracing the increasingly Aussie tradition of the new year's eve music festival, capitalising on the warm weather to get people outdoors for some live music. Their version is Origin NYE, taking place at Claremont Showgrounds and typically boasting a very impressive lineup - tickets for The Origin NYE are available here.
Seeing in the new year on the water is another popular option, and there are many companies offering cruises both on the harbour and Swan River. Captain Cook cruises have several good options to choose from, departing both from Perth and nearby Fremantle.
For eating out you'll be spoiled for choice in Perth, with a huge range of restaurants as well as bars offering food. Seafood is a particular speciality given the maritime setting but there's something for most tastes - there's a Jamie Oliver Italian in town now, while the Gordon Street Garage, Fuku, The Tuck Shop Cafe and Balthazar are all very popular too. Check out all the local restaurants here.
NYE Live Streaming, Webcams
Places to watch live online - there are a few webcam streams offering city skyline views, and also some in the surrounding popular beach areas:
New Years Eve Hotels
Accommodation in Australia is generally on the pricey side, and Perth is no exception, although it is a little lower down the scale than Sydney or Melbourne.
It will be very busy indeed at new year though, so make your reservations as soon as you can - check availability and book local hotels here.
Latest NYE News
The content on this page is written and maintained by Martin Kerrigan. If you have found it useful then please feel free to share it with your friends and family. If you have any comments or events to add to this page please Contact us.