Kuala Lumpur New Year's Eve 2019
Fireworks, Events, Parties, Hotels, Restaurants, Concerts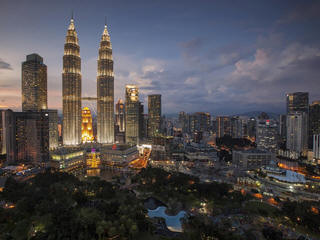 Head to Malaysia's capital of Kuala Lumpur for the New Year's eve celebrations and you can fully immerse yourself in the opulence this city has to offer, from staggering skyscrapers to more traditional temples and of course the delicious food on offer in both restaurants and markets. Millions of people a year choose Kuala Lumpur as their holiday destination and take advantage of the shopping malls and lively atmosphere of places like the Golden Triangle and elsewhere in the Bukit Bintang area.

Treat yourself in the lavish boutiques, marvel at the Petronas Twin Towers, which have featured in many movies that you've probably seen, before heading into the stunning KLCC shopping mall built below, or why not get some epic views from the Sky Bridge, there's nothing quite like the view from 558 feet in the air, just remember to get your tickets as it's limited per day.

There are also numerous parks to stroll around in and just pass the time at a leisurely pace, before heading to one of the bars or restaurants to round up your day. Take a walk through Kuala Lumpur's Chinatown, in particular Petaling Street for a great night market where you can pick up some bargains.

For people looking to sample some great street food, head to Jalan Alor, there's plenty of street vendors and it's recommended to at least try out the fab coconut icecream!
Things to do
You won't be able to miss the enormous Petronas Twin Towers, standing at a lofty 451m and beacons on the Kuala Lumpur skyline, perfect for the backdrop for the stunning fireworks display. So gather in and around that area for some fantastic photo opportunities.

The main event is held in KLCC Park, an enormous 50 acre public park where thousands of people gather to enjoy the festivities, with live music and entertainment and of course the epic fireworks display, it's by far the best location to get the fireworks with the Petronas Twin Towers in the background.

If you are looking to party and dance the night away, you might be more interested in venturing to Changkat Bukit Bintang. This is where you come for the best bars, clubs and restaurants, a great party atmosphere, it's in the Bukit Bintang area and expect massive crowds and a real street party vibe. There's a big countdown outside Pavilion shopping mall. The place will be utterly packed, so check with whichever venue you plan on going to if they have tickets/reservation policy.

Restaurants will be busy at New Year, but make sure you dine in style at one of these fantastic restaurants:

The Point Restaurant & Bar
Skillet At 163
Mosaic at Mandarin Oriental, Kuala Lumpur
Fuego at Troika Sky Dining
Marini's on 57
NYE Live Streaming, Webcams
I can't find a live webcam as yet, I shall keep searching and update if any come up.
New Years Eve Hotels
Stay in some of Kuala Lumpur's fabulous hotels this year, but remember to book as soon as you can:

Villa Samadhi By Samadhi
Grand Hyatt Kuala Lumpur
Mandarin Oriental, Kuala Lumpur
The Ritz-Carlton, Kuala Lumpur
Lanson Place Bukit Ceylon Serviced Residences
You can search for deals at all of these venues, plus other local hotels here.
Latest NYE News
The content on this page is written and maintained by Yvonne Kerrigan. If you have any comments or events to add to this page please Contact us.