Dubai New Year's Eve 2019
Guide to the best new year celebrations, fireworks, parties and events in Dubai on NYE 2018-2019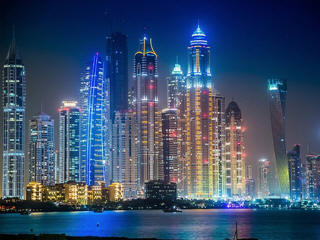 Dubai has been hosting a spectacular new year's eve party for many years now, establishing a reputation as one of the new year party capitals anywhere in the world.
The focal point of the celebrations had previously been record-breaking fireworks displays, but after some unfortunate issues with fires in some of Dubai's many high rise buildings the main show at Burj Khalifa has now been replaced by a light show.
The Light it Up NYE show is every bit as spectacular as the fireworks used to be, with the added benefit of also being more environmentally friendly, it could well be the start of another new trend for new year parties of the future.
Burj Khalifa Light up 2019
The biggest building in town is also the site for the biggest party in town, and the new year's eve Burj Khalifa Light Up 2019 event in Downtown Dubai promises to be as spectacular as ever this year, with the laser and light show taking over from the previously used fireworks.
This show can be viewed for miles around, but the largest crowds will gather along the waterfront areas of the famous Dubai Fountain. This area will be very crowded so if you want to get a good view of the show we advise you to get down there as early as possible - it will typically be packed by around 7pm.
Burj Al Arab Fireworks
Not everyone has given up on fireworks on new year's eve, and the Jumeirah Beach area located next to the iconic Burj Al Arab is still the site of a spectacular show at midnight.
There will be large crowds packed along the whole beach area, from Jumeirah Beach right down to Kite Beach. many choose to head down earlier in the evening to watch the sunset and enjoy a picnic on the beach before the big display, and the areas many cafes and restaurants will also be plying a brisk trade.
Atlantis, The Palm NYE Party & Fireworks
Another spectacular fireworks display can be found at the Atlantis, The Palm, where they have been making a big deal of new year's eve for many years now. The addition of the Palm Jumeirah Boradwalk offers and excellent viewing spot to watch the show, also offering a view of the Burj Al Arab fireworks in the other direction.
Atlantis, The Palm also offers a number of new year parties and celebrations to keep you entertained in the buildup to midnight, with their New Year's Eve Royal Gala being one of the most popular, offering fine dining, champagne in plentiful supply and of course a front-row view of the fireworks.
Amwaj Al Bahar New Year Yacht Party
Another great option for your new year party in Dubai is to head out onto the water itself for a NYE Cruise, from where you can get a great panoramic view of the fireworks right across the Emirate.
One top event is to get onboard on of the luxury yachts of Amwaj Al Bahar, who host a number of new year's eve parties on their fleet out cruising on the Arabian Gulf offering a wide selection of gala dinners, live entertainment and open decks form where you can watch the fireworks.
See the full range of cruise options and book your tickets online here.
New Year's Eve Hotels
II'm sure you will already be familiar with many of the top hotels in Dubai, and we've already covered some of the most popular venues above.
New year's eve is obviously a very busy time, and location becomes even more important than usual, with fireworks views a huge bonus, while most top hotels will offer packages including parties and galas dinners to attract as many visitors as possible.
Top hotels to consider where you can get views and private parties include:/p>
Waldorf Astoria
Anantara
Kempinski
Jumeirah Zabeel Saray
Rixos
For reservations and online availability at all of the above hotels plus many more, check the best Dubai hotels here.
NYE Live Stream
There has been live online coverage of the main new year's eve celebrations in Dubai for several years now, so there's no problem finding a live stream to watch the main shows at midnight.
This dedicated site will cover live both the Light it Up event from the Burj Khalifa as well as the main fireworks displays elsewhere:
Dubai new year's eve live stream
Latest NYE News
The content on this page is written and maintained by Martin Kerrigan. If you have found it useful then please feel free to share it with your friends and family. If you have any comments or events to add to this page please Contact us.