Seoul New Years Eve 2019
Times Square Countdown, Olympic Park fireworks for new year's 2018-2019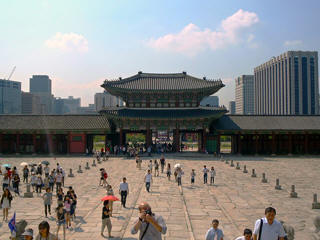 New year's eve in Seoul offers an excellent range of things to do, with public parties and private events in plentiful supply, with the city's famous Times Square and Olympic Park providing the most popular venues.
The capital city of South Korea, Seoul is located very much at a cultural crossroads, with clear western influences throughout the city contrasting with it's proximity to the oriental region. This is reflected in it's approach to celebrating the new year, as both the Gregorian and Chinese versions are celebrated with equal gusto in various locations across the city.
For the December 31st version we're talking about here the city's many bars, nightclubs and restaurants will be packed, especially those around the popular Gangnam region where locals and visitors alike will ne looking to see in the new year Gangnam style (sorry, just couldn't resist it, think I hate myself just a little bit now...)
Traditions
There are a couple of cultural new year traditions unique to Seoul that are worth looking out for if you're here for the occasion - the main event is the Bosingak Watch-Night bell ceremony, where local dignitaries and celebrities head to Jongno literally ring in the new year.
The origins of this ceremony can be traced right back to the 14th century but the modern version has been taking place in it's current incarnation since 1953.
NYE Times Square
Elsewhere, crowds head to Seoul's very own Times Square, one of the new genre of Mega Shopping Malls that are becoming increasingly popular in the country. The mall has many popular outdoor spaces, including a rooftop garden where there are panoramic views of the city and hold a series of countdown concerts on NYE, with different types of music to appeal to most tastes.
Olympic Park Party
The city's Olympic Park is also a popular venue on new year's eve with crowds gathering with friends and family to enjoy and evening of food, music and entertainment before watching the fireworks at midnight.
Restaurants
If you're looking for somewhere to eat out before heading to a party of a nice eatery to spend the evening then there's a huge range of options in Seoul, with over 12,000 restaurants to choose from. Top ranked venues include the Braai Republic, OKitchen, Jyoti Restaurant for Indian and Pierre Gagnaire for classic French. For all the best restaurants in the city see the listings here.
NYE Live Streaming, Webcams
There are several well-positioned webcams around Seoul which can help give you some live views of the evening's events, including some skyline views that should capture some of the city's fireworks nicely:
New Years Eve Hotels
If you're planning on visiting Seoul over the New Year then you will have an excellent range to choose from, and those used to US or European prices will be pleasantly surprised by what your money will get you. Check out the full range of local hotels here.
Latest NYE News
The content on this page is written and maintained by Martin Kerrigan. If you have found it useful then please feel free to share it with your friends and family. If you have any comments or events to add to this page please Contact us.