Ball Drop 2018 Live Stream
Watch Online Webcast Feed, Streaming live countdown from Times Square
Times Square, New York City, 31 December 2017, Midnight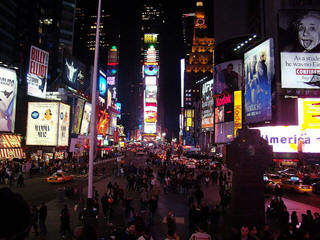 The ball drop from New York Times Square on new year's eve is one of the biggest new year events anywhere on the planet, and certainly the biggest and most watched in the US and now worldwide via the live stream online webcast.
The only global event that can possibly compete for viewers worldwide would be the Sydney harbour fireworks display, but that is over and done with many hours earlier, leaving the NYC Ball Drop to take the spotlight for the second half of the new year's eve celebrations.
The live streaming of this event in recent years has only helped with the popularity with many millions now tuning in from their PC, tablet or mobile devices to watch the ball drop from the comfort of their own home, or from whicherver new year party they happen to be attending.
The Ball Drop organisers have for several years now provided the live online stream, not just of the ball drop itself, but the whole evening's entertainment leading up to it, hosted from the legendary Times Square by Allison Hagendorf. Not only is this online streaming free, but also free of commercials, which quite frankly amazes me! In partnership with Livestream they're offering a fantastic live online webcast feed that as far as I can see is easily the best new year's eve coverage of any event globally.
Lineup
The lineup for for the new year's eve ball drop in Times Square 2017-2018 is now taking shape, and includes headline acts:
Nick Jonas
Camila Cabello
Sugarland
The west coast part of the show, known as the Billboard Hollywood New Year's Eve Party will be hosted this year by Ciara, replacing the previous host Fergie.
The ABC broadcast gets underway at 8pm New York time. The Times Square new year's eve event is sponsored again this year by Planet Fitness.
Remote performances in previous years have also been included from venues including New Orleans and Las Vegas, we'll have details of the extra sites for this year's event as soon as they're confirmed.
NYE Live Streaming, Webcams
As well as the live online stream remember you can check out live views from in and around Times Square throughout the day and catch all the build up and atmosphere via the Times Square webcams
Watch the Ball Drop live streaming webcast feed here:
Popular Pages
The content on this page is written and maintained by Martin Kerrigan. If you have found it useful then please feel free to share it with your friends and family. If you have any comments or events to add to this page please Contact us.