Abu Dhabi New Years Eve 2018
Fireworks, Events, Parties, Hotels, Restaurants
Abu Dhabi, UAE, 31 December 2017, Midnight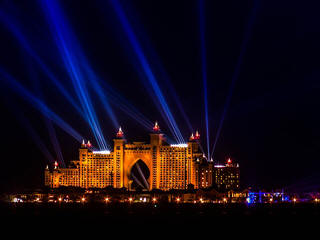 The big new year's eve party in Abu Dhabi this year sees Katy Perry performing live at Yas Island's du Arena - see below for full details.
Abu Dhabi welcomes the new year with great enthusiasm, with new year's eve parties here typically revolving around spectacular fireworks displays and large scale live music concerts, with the competion to attract big names hotting up each year.
The biggest new year coup prior to Katy Perry was the live concert by global megastars Coldplay several years ago and they obviously liked it here so much they returned again for another hugely successful event for new year 2017 - its seems Abu Dhabi is really doing a great job of attracting the big names for their NYE party!
New Year Fireworks, Events, Parties
The big news last year was the return of Coldplay, who peformed live on new year's eve at the du Arena on Yas Island, which would seem a tough act to follow, but organisers have managed to at least match it with the news that Katy Perry will be live at the same venue this new year's eve. Tickets will sell out very quickly so secure yours asap here.
The fireworks in Abu Dhabi on new year's eve aren't as yet in the same bracket as near neighbour Dubai but they're heading in the right direction with a very impressive midnight display due again this year.
The big new year's eve party this new year will be hosted by Abu Dhabi's Al Maryah Island, with live music, a plethora of food trucks and of course fireworks.
The best viewing spots for the midnight fireworks display in Abu Dhabi are on the Al Maryah Island Promenade and at Khor Al Maqtaa. These areas do get very crowded though so be sure to arrive in plenty of time to secure the best views.
Another big new party taking place this new year in Abu Dhabi sees guests head out into the desert for a truly unique experience in a traditional style desert camp - the event includes buffet, dancing, DJ and entertainment including sandboarding! Get more details and tickets here.
If you're planning on spending some time in and around Abu Dhabi over the holiday period there are a number of other attractions to fill in your time, with the added bonus that the climate at the turn of the year is at it's most pleasant, with cool, sunny days and clear blue skies, although you will need to be aware of the cold nights that take many be surprise! Places well worth a visit in Abu Dhabi include the Sheikh Zayed Grand Mosque, the Cultural Foundation and the National Theater
Abu Dhabi also has a number of prominent skyscrapers throughout the city, another attempt to match near neighbour Dubai in boasting a dramatic skyline, which helps make the city a globally recognisable venue. Some of the tallest buildings include the Central Market Residential Tower, The Landmark and the Sky Tower, all of which provide ideal potential focal points as a backdrop to the New year fireworks displays.
If you're looking for somewhere to eat out to start your evening then there's no shortage of places to choose from, with dining options in most of the main hotels as well as a large range of standalone venues. The Al Fanar Rooftop Revolving Restaurant at Le Meridien would be a great choice, while the Maharaja Palace has an excellent reputation. Check out all the best restaurants here.
NYE Live Streaming, Webcams
Places to watch live online: Abu Dhabi webcams.
There is also a construction cam located at the site of the new Abu Dhabi Cleveland Clinic, which has a decent view of the city skyline in the background, should be good for catching some fireworks on:
There are also some excellent videos of previous New Year fireworks displays on Youtube, see how big the party usually is:
Abu Dhabi fireworks on Youtube
New Years Eve Hotels
Places to stay are easy to find in Abu Dhabi, and the focus is very much on the top end of the market, with 5 Star accommodation available at prices far lower than other top end destinations. Top recommendations include:
Al Maha Arjaan Hotel
Al Rawda Arjaan By Rotana
Centro Al Manhal
Cristal Hotel
Crowne Plaza Hotel Yas Island
Dhafra Beach Hotel
Cristal Salam Abu Dhabi Hotel
Danat Resort Jebel
Eastern Mangroves Hotel & Spa By Anantara
Golden Tulip Dalma Suites
Abu Dhabi Hilton
Hotel Park Arjaan By Rotana
Hotel Sofitel Abu Dhabi Corniche
Intercontinental Abu Dhabi
All of these locations can be accessed for reservations and availability with online bookings here.
Popular Pages
The content on this page is written and maintained by Martin Kerrigan. If you have found it useful then please feel free to share it with your friends and family. If you have any comments or events to add to this page please Contact us.