Marina del Rey New Years Eve 2019
Fireworks, Events, Cruises, Parties, Hotels, Restaurants
Marina del Rey, California, 31 December 2018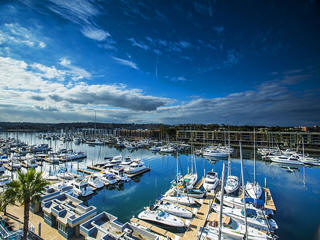 New Year's Eve fireworks in the Los Angeles area remain enduringly popular, and Marina del Rey holds one of the most long running displays in the region, drawing large crowds out of the city and surrounding areas to their family friendly new year party each year.
Marina del Rey itself is only a small community, but it's location with such proximity to Los Angeles city as well as the perpetually popular iconic beach resorts of Santa Monica and Venice Beach ensures that it remains a popular location with locals and tourists alike.
If you are looking for more information on new year's eve fireworks and events in the surrounding areas please also check out our pages for Los Angeles, Hollywood and Long Beach.
Things to do
If you're in Marina del Rey for new year's eve then there are 2 main activities to look out for, namely fireworks or cruises.
The Marina del Rey new year's eve fireworks display takes place in Burton W Chace Park, right on the waterfront, where a family friendly event starts at 7pm and continues through to 9pm, when an early fireworks display takes place. This party also includes a live screening of the Ball Drop from Times Square.
If you prefer to take to the water then Hornblower cruises offer a series of options departing from Marina del Rey, including a New Year's Eve Brunch Cruise, Nautical New Year's Eve Gala Dinner and a New Year's Eve Dessert and Cocktail Cruise. Get more details and buy tickets for these cruises online here.
For your new year dining options there is plenty of choice in Marina del Rey too. Popular eateries include Cafe del Rey, C&O Trattoria, SALT Restaurant and Bar and Killer Cafe. Vegan options can be found at New India's oven. Check out all the local restaurants, with online booking options, here.
NYE Live Streaming, Webcams
if you want a live view from Marina del Rey there is an excellent live streaming webcam view looking right over the harbour, you should be able to get a look at the fireworks on here too:
New Years Eve Hotels
There's absolutely no shortage of places to stay in the area, tourists will likely outnumber locals at this time of year.
You can search for deals at all the best local hotels here.
Latest NYE News
The content on this page is written and maintained by Martin Kerrigan. If you have any comments or events to add to this page please Contact us.