LA New Years Eve 2019
Fireworks, Events, Parties, Hotels, Restaurants, Concerts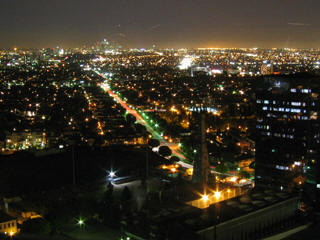 Los Angeles hosts some fabulous new year's eve parties, from the glitz and glamour of Hollywood Boulevard down the the fireworks on the coast down at Long Beach there is something for everyone in the fantastic city.
There are many areas to choose from with this city being spread across such a vast expanse - places like Santa Monica, Venice Beach, Beverly Hills and Universal Studios are all enduringly popular new year venues, with an almost bewildering range of clubs, bars, hotels and restuarants - we'll try and make snese of some of the most popular options for you right here.
Things to do
There isn't an official new year's eve fireworks display in central LA, but there are plenty in the surrounding areas which means that if you're anywhere with a good view then you'll be able to see some pyrotechnics come midnight. The biggest organised displays are those at the Universal CityWalk new year party, on the coast at Marina del Rey and offshore at the Queen Mary in Long Beach, where you can also make the most of the evening with a fantastic onboard gala dinner and party. For more details on the biggest fireworks displays in the LA area see our Long Beach page, or the family friendly fireworks event in Marina del Rey.
There was also a free, family friendly new year party called NYE LA in the city's Grand Park and music center, featuring live music and entertainment that is described as "multi-dimensional" They have 2 seperate countdowns, one at 9pm to coincide with the ball drop in Times Square and the second at the proper Californian midnight, which includes a spectacular light show on the sode of City Hall.
As hinted at above, one of the biggest parties in the LA area is the annual New Year's Eve Countdown Bash at the Universal CityWalk, not to be confused with the remarkably similarly named venue in Orlando. This event features live music and DJs with fireworks at midnight launched from 3 different locations, including WaterWorld, that you can view across the area.
This year the Universal CityWalk party is titled EVE and includes a spectacular LED experience, 6 CityWalk clubs, unlimited gourmet food, a hige outdoor danced floor, midnight champagne toast, of course the fireworks displays. You can buy your tickets online here.
They also show on a big screen the Ball Drop from Times Square, which due to the time difference actually takes place at 9pm in California, a reminder of just how big this country is! The Universal CityWalk headline acts this year will be updated here as soon as we have them.
This year also sees the return of the Insomniac Countdown event at the NOS Events Center in nearby San Bernadino. This show takes place over 2 nights from 30-31 December and offers live music, pyrotechnics, costumes and confetti showers and last year was host to 17,000 new year revellers. Ticket details to follow.
If you're looking for your new year dining options then the restaurant scene in LA is as vibrant and varied as you would expect, with over 7000 places to choose from! Top rated venues include Wokcano, Sushi Gen, Chaya Downtown, Cleo and Drago Centro.
Los Angeles also has one of the best vegan and vegetarian selections anywhere in the world (another reason I'm so keen to go there!) with the Sage Organic Vegan Bistro and Flore Vegan expecially highly recommended. You can view the full range across all cuisines and budgets here.
NYE Live Streaming, Webcams
Places to watch live online - there is an excellent range of live webcam views across the LA region where you can keep an eye on the evening's events and tune in at midnight to catch the fireworks.
Especially worth checking out are the streams from Long Beach, Venice Beach and the Santa Monica pier. There are also some impressive city skyline views and even a live cam at the Hollywood sign!
New Years Eve Hotels
If you're planning on visiting Los Angeles area over the New Year period, then there really is a vast range of accommodation types and price ranges to choose from. You can search, check availability and book local hotels here.
Latest NYE News
The content on this page is written and maintained by Martin Kerrigan. If you have found it useful then please feel free to share it with your friends and family. If you have any comments or events to add to this page please Contact us.