Verona New Years Eve 2019
Fireworks, Events, Parties, Hotels, Restaurants, Concerts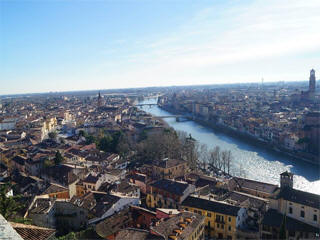 Verona may not be a typical choice for a new year's eve celebration, but having visited there several times now there are few places that I can imagine would be more appealing (the skyline picture above is one I took myself, I was quite pleased with it!)
To begin with it is a nice and compact town, which makes getting around nice and easy, especially if, like me, you prefer to explore new places on foot, but it also has a fantastic range of historical sites and attractions, as well as being conveniently close to Venice to the east, Milan to the west and the beautiful shores of Lake Garda just a few miles north.
I would recommend at least a few days here to give you time not only to attend the new year parties and watch the fireworks but also to check out the numerous tourist sites. Among those most definitely not to be missed are the Piazza del Erbe, Castelvecchio Bridge and Museum, the Torre dei Lamberti, Juliet's House (the Casa di Giulietta) and of course the fabulous Verona Arena and Cathedral.
Things to do
Just being in Verona itself on new year's eve 2018-2019 would be a worthwhile experience, with the Christmas lights still on display throughout the streets, and parties and celebrations taking place in all of the local bars and restaurants.
The main focus of the party is the famous and iconic Piazza Bra, where there is live music throughout the evening by local bands and singers before the spectacular fireworks at midnight, with the fantastic backdrop of the arena adding to the spectacle.
If you're looking for prime viewing points but would prefer to be away from the main crowds in the piazza itself then consider heading up to the top of the Torre dei Lamberti, which stays open late on new year's eve to help accommodate the increased tourist crowds. Alternatively, if you don't kind a steep walk the areas around the Museo Archeologico are just a little way out of town but offer fantastic skyline views so you can watch the fireworks right across the region.
If you would prefer to dine in Verona itself, either for a quiet evening with your friends or before heading out to one of the many parties then Verona offers plenty of choice. Top recommended restaurants include Osteria Il Bertoldo, La Bottega della Gina, Vecio Macello and Trattoria Al Bersagliere. They even have a vegan option these days, I can personally recommend the pizza at Ristorante Pizzeria La Lanterna. See the full range of Verona eateries here.
NYE Live Streaming, Webcams
Places to watch live online: there's no real substitute for being there in person, but if you can't make it the Verona Municipality have some excellent live webcam views in key locations including the Castelvecchio, the Piazza dei Signori and at Juliet's House.
Your best options to watch the NYE party and midnight fireworks are the 2 cameras located right in the Piazza Bra:
New Years Eve Hotels
For a relatively small town Verona has a wide range of accommodation to choose from, catering more than adequately to the thriving tourist trade. I have to admit when we stayed there most recently we opted for a week in an AirBNB apartment, but for a stay over a special occasion such as new year I would probably opt for one of the more central hotels.
For hotels, bed and breakfast, apartments and guest houses in Verona for New Years Eve, visit local hotels here.
Latest NYE News
The content on this page is written and maintained by Martin Kerrigan. If you have found it useful then please feel free to share it with your friends and family. If you have any comments or events to add to this page please Contact us.