Milan New Years Eve 2019
Fireworks, Events, Parties, Hotels, Restaurants, Concerts
Milan, Italy, 31 December 2018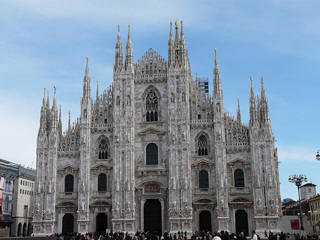 Milan remains a very popular choice of holiday destination throughout the holiday period, and the New Years Eve party (known locally as La Festa del San Silvestro) draws high volumes of visitors both from the surrounding areas and across the country and indeed the world.
The range of bars and restaurants and associated culinary offers are legendary, but add in the prospect of dramatic fireworks displays against some of the most dramatic architectural backdrops imaginable and you have a recipe for a great event.
I visited Milan myself a few times over the years and have always been impressed with the city, especially the open spaces and arcades around the Duomo - I think that's probably where I would be headed if I was on town for new years. the Terrazza Aperol has some especially spectacular views, but be warned it isn't cheap!
Things to do
The Italian people love a great fireworks display, but unfortunately in previous years this has led to a high level on injuries, meaning that the police have started to make a real effort to clamp down on any potential problems. This has obviously had a big impact on the amount of fireworks across the Milanese cityscape, and even the main event has been impacted, with the local council invoking anti-air pollution laws to keep the amount of fireworks down.
The moral of the story? If you want to be absolutely certain of seeing some pyrotechnics come midnight to welcome in 2019 then make sure you are attending an officially organised and advertised event. In Milan, this means heading to the area around the PIazza del Duomo or the Piazza Castello where you will be joined by large crowds of locals in a street party that continues well into the early hours of New Years Day, or Il Capodanno.
Away from the city's main attractions, many people choose to take to the water, and the various cruise companies mooring their vessels on the River Po or the Naviglio Grande canal hold many special onboard events, incorporating fine dining and plentiful champagne (or Prosecco - this is Italy!) with panoramic fireworks and city views.
For the livelier, younger crowd the bars and nightclubs of Milan all join in the festivities with gusto, and there is a huge variety of events to choose from, but make sure you book your tickets well in advance as the most popular venues will sell out. Places to look out for include Hollywood, Alcatraz, Maganizzi Generali, Shu, Nobu Armani and Discoteca Lime Light.
NYE Live Streaming, Webcams
Places to watch live online:
New Years Eve Hotels
There is an enormous range of Milanese accommodation to choose from for your holiday visit to the city. For hotels, bed and breakfast, apartments and guest houses in Milan for New Years Eve, visit local hotels here.
Latest NYE News
The content on this page is written and maintained by Martin Kerrigan. If you have found it useful then please feel free to share it with your friends and family. If you have any comments or events to add to this page please Contact us.