Venice New Years Eve 2019
Fireworks, Events, Parties, Hotels, Restaurants, Concerts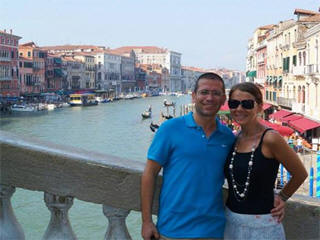 Venice is one of our most popular places to visit in Italy and we've been there several times now so can highly recommend it as a venue to spend your festive and new year season.
One thing that always strikes me about Venice how busy it is all year round - we tend to get up and about early in the morning to try avoid the crowds, but once the sun is up the tourists arrive and main sites around the Grand Canal and St Mark's Square in particular get really packed.
By way of a personal touch, the photo above was actually taken in Venice on one of our visits and shows us on the Rialto Bridge, looking over the Grand Canal.
Things to do
The main place to head for is of course the iconic St Mark's Square, and this is where the biggest crowds will be. There will be a countdown to midnight via the bell of St. Mark's Campanile, the imposing bell tower of St Mark's Basilica (Campanile di San Marco to the locals) and this is followed by the spectacular fireworks display - you won't find many better backdrops than this anywhere in the world.
The square itself will be packed, but the beauty of Venice is it's close-knit nature so finding viewing points elsewhere shouldn't be a problem for those who prefer to avoid the crowds - the Punta della Dogana is a recommended spot for a panoramic view from across the water.
Elsewhere, an iconic event is the Venice New Year's Concert at the spectacular Fenice Theatre, or Teatro La Fenice - this takes place each night from the 29th December to the 1st January (the new year's day version is screened live on Italian TV channel Rai Uno).
Venice is absolutely jammed with bars and restaurants, but they will be very busy so be sure to make a reservation - most will have special gala dinners for new years eve too - we'll provide details of some of our top recommendations nearer the time.
New Year's day also sees a major event in Venice, with crowds heading to the Lido beach for the Blue Moon Beach festival which includes hardy volunteers taking a new year dip (not as impressive as those who do so in the North Sea, but a valiant effort nonetheless!) and a general party atmosphere.
NYE Live Streaming, Webcams
Places to watch live online - Venice has a number of excellent webcam views, including live streams from St Mark's Square and the Rialto Bridge:
The New Year's Day concert at the Fenice is shown live on Rai Uno - you may be able to watch this live on their website, or if not the 7 day catchup section will certainly have it:
New Years Eve Hotels
There is an enormous range of accommodation in Venice, although be warned it is very much at the top end of the budget in terms of places to stay in Italy - with a relatively restricted space there's a captive market so you really are paying a premium for the location.. For hotels, bed and breakfast, apartments and guest houses in Venice for New Years Eve, visit local hotels here.
Latest NYE News
The content on this page is written and maintained by Martin Kerrigan. If you have found it useful then please feel free to share it with your friends and family. If you have any comments or events to add to this page please Contact us.