New Year's Eve with Carson Daly 2019
Live Stream, Lineup, TV Coverage Times
Times Square, New York City, New York, 31 December 2018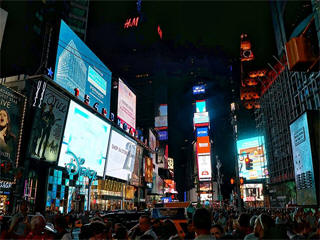 NBC New Year's Eve with Carson Daly is a prominent feature of the new year scene in the United States, airing on the NBC TV station each year live from Times Square and covering the famous ball drop but also airing live musical performances from big names offered in competition to the more well known New Year's Rockin' Eve, which is hosted by rival channel ABC.

The show in it's current format has been taking place since 2003 and is both hosted and produced by Carson Daly. It is typically screened in 2 one hour segments, the first from 10-11pm featuring many of the recorded musical performances followed by the main show from 11.30-12.30, covering the ball drop. Viewing figures tend to be around half of the New Year's Rockin Eve show, which is still a pretty impressive 6 million or so.
Lineup
The show this year will be preceded by a new NBC new year show, Seth Meyers New Year's Eve Special (also streaming live online) adding to the star factor on NBC this new year with top level guests - get more details here: Seth Meyers NYE 2019
The New Year's Eve with Carson Daly show is famous for the quality of the guests they manage to attract.
The lineup for 2019 is to follow once we have it.
TV and Live Streaming
The show is shown live on NBC in 2 sections, the first from 10-11pm ET then the second at 11.30-12.30 ET. NBC do offer a live online stream for people who have a relevant subscription, you can watch this online here:

NBC live stream

It is also worth noting that last year they also offered a live stream for non-subscribers which helped greratly in boosting the show's online presence, we will be checking to see if that is the case again this year and will post any link right here as soon as we have it.

If you are just keen to watch the new year highlights from Times Square and aren't too concerned about who is hosting then remember you can always watch the Ball Drop live stream and also check out the live streaming Times Square webcams.
Latest NYE News
The content on this page is written and maintained by Martin Kerrigan. If you have found it useful then please feel free to share it with your friends and family. If you have any comments or events to add to this page please Contact us.