CNN New Year's Eve 2019 Live Stream
New Year's Eve Live with Anderson Cooper and Andy Cohen
Times Square, New York City, New York, 31 December 2018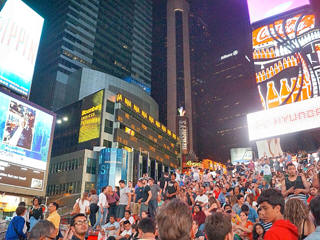 New Year's Eve Live with Anderson Cooper and Kathy Griffin has long been CNN's entry into the new year's eve coverage in the United States, with the added bonus of being more widely available worldwide via CNN International, which helps add greatly to the audience numbers. Big changes are afoot this year though, with comedian Griffin replaced by Anderson Cooper's friend Andy Cohen.
It is this international audience what helps to keep the program viewing figures in the millions, while on the domestic market their TV broadcast tends to lose out to the more popular New Years Rockin Eve and New Year's Eve with Carson Daly.

The show in it's current format has been broadcast each year since 2001, with the main segments coming live from the ball drop in Times Square and hosted by the popular newsreader Anderson Cooper.
The show is also well known for sending correspondents out to other new year parties around the United States, typically featuring broadcast sections from Nashville, New Orleans, Las Vegas and Key West in Florida among other, smaller venues. This helps to give the show perhaps a broader appeal than those just focussed on the big parties in Times Square and Hollywood.
Lineup
Anderson Cooper is joined this year by Andy Cohen, replacing Kathy Griffin, for new year's eve 2019, hosting the show until 12.30am ET, when Don Lemon and Brooke Baldwin will take over from live in New Orleans, based from the Spotted Cat Music Club on Frenchmen Street.
TV and Live Streaming
The big advantage that CNN have in terms of attracting a TV and online audience is the relative ease with which their channel can be accessed.
Most homes in the US have CNN as one of their main TV channels, while internationally CNN International is carried in countries around the world, and also significantly in many, many hotel rooms, which gives people visiting other new year parties around the globe an opportunity to check in with the parties in the United States.

You can watch CNN International live streaming online webcast via the excellent CNN Go:

CNN live stream

If you are interested in checking out the other main new year broadcasts then live stream online options are also available for the New Years Rockin Eve and New Years Eve with Carson Daly programs, as well as of course the many excellent and perfectly positioned live streaming webcams from Times Square.
Latest NYE News
The content on this page is written and maintained by Martin Kerrigan. If you have found it useful then please feel free to share it with your friends and family. If you have any comments or events to add to this page please Contact us.