Disney World New Years Eve 2019
Fireworks, Events, Live Stream, Parties, Hotels, Restaurants
Walt Disney World, Florida, 31 December 2018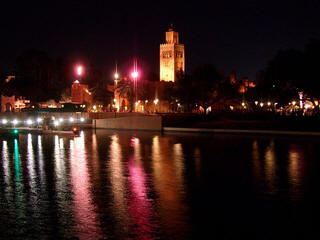 The Walt Disney World Resort is hugely popular with those looking for family-friendly entertainment on New Years Eve, somewhere you can take the kids to enjoy a party and amazing fireworks displays without worrying too much about rowdy crowds of revellers spoiling the occasion, although make no mistake, the place will still be absolutely packed - this is a popular time of year here, with the warm Florida weather only adding to the appeal.
Main focal points on NYE at Disney World include the Magic Kingdom, Epcot and Disney's Hollywood studios, all of which hold special events for the occasion, topped of course with the inevitable fireworks to welcome the new year - with 3 major midnight fireworks shows to choose from at midnight alone you are very much spoiled for choice here!
If you're in this part of Florida for new years eve and Disneyworld isn't your thing then there are plenty of other big parties and events taking place in the wider Orlando area - see the best things to do on our Orlando page: New years eve Orlando
Disney Countdown to Midnight
The big new year's eve party for new year 2019 is the Disney Countdown to Midnight, taking place at convention center at Disney's Contemporary Resort. The event starts at the Fantasia Ballroom and includes drinks and dancing throughout the vening, leading to midnight where everyone will head outside to watch the Magic Kingdom Fantasy in the Sky new year's eve fireworks display.
Magic Kingdom Fireworks
The Magic Kingdom is the focal point for some of the biggest fireworks displays, with spectacular pyrotechnics above the Cinderella Castle - there are 2 shows again on new year's eve 2018-2019, an earlier version at 9pm targeted at those families with younger children and this is followed of course by the main Fantasy in the Sky event at midnight.
If you don't mind watching the Magic Kingdom fireworks from a little further away then we can recommend drinks in the lounge at Citricos at Disney's Grand Floridian Resort & Spa or perhaps cocktails and dining at Disney's Contemporary Resort.
It's worth noting that if you really prefer to avoid the crowds then the Magic Kingdom also has displays at the same times on December 30th.
Tomorrowland Terrace
The Tomorrowland Terrace typically features a New Years Eve fireworks dessert party, with 2 events on both the 30th and 31st December to coincide with the Fantasy in the Sky fireworks from the Magic Kingdom.
Epcot Fireworks
Epcot also has 2 separate displays, titled the IllumiNations: Reflections of Earth and featuring music, fireworks, lights and lasers at the Future World Fountain stage - these shows take place at 6pm and then the New Year's Eve Countdown spectacular later at 11.40pm and are supported by music from live DJs.
Hollywood Studios Fireworks
There are also fireworks at Disney's Hollywood Studios, just to give you even more choice when added to the Epcot and Magic Kingdom shows. This display is widely regarded as being somewhat less spectacular than the others but then has the benefit of being not quite so crowded, as well as having a live band for entertainment.
One top tip if choosing which fireworks to see is that if you happen to be at Disney World for more than one night over new years, check out the Magic Kingdom display on the 30th December then watch one of the others on new year's eve itself - go for Epcot if you want the biggest dramatic show, Hollywood Studios if you prefer it a little quieter.
New Year Restaurants
If you're looking for new years dining options in the area then there is the usual eclectic range to choose from - favourites include Traders Island Grill Restaurant at the Lake Buena Vista Hotel and Andiamo Italian Bistro and Grille at the Hilton.
Top Epcot dining options include La Hacienda de San Angel offering a 5 course spectacular dinner with fabulous fireworks views and a New Year buffet dinner attended by some of your favourite Disney characters at the Epcot World ShowPlace. See all the top restaurant options here.
NYE Live Streaming, Webcams
The new year fireworks from the Magic Kingdom have in recent years also been shown as a live stream online, we will provide the link here if this is repeated for new year 2019.
Latest: There will indeed be a live stream of the NYE fireworks from the Magic Kingdom:
There are also several live webcam views for you to check out the new year party in Walt Disney World:
New Years Eve Hotels
If you're planning on visiting WDW over the New Year period, then early reservation is strongly recommended, and there are some decent special offers worth looking out for if you check the official site directly. You can search, check availability and book local hotels here.
Latest NYE News
The content on this page is written and maintained by Martin Kerrigan. If you have found it useful then please feel free to share it with your friends and family using the social media sharing tools below. If you have any comments or events to add to this page please Contact us.