Orlando New Years Eve 2018
Fireworks, Events, Parties, Hotels, Restaurants, Concerts
Orlando, Florida, 31 December 2017, Midnight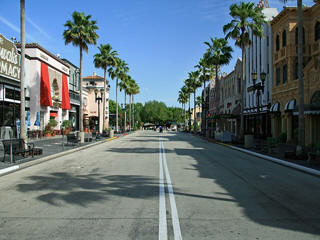 Orlando offers a great range of new year's eve parties, with iconic sites such as Walt Disney World and the Universal CityWalk Orlando hosting huge parties, as well as smaller scale celebrations in bars, hotels and restuarants across the city.
If you're thinking of visiting the Orlando area of Florida around new year's eve then let's be honest, there's a good chance you're with the family and heading for Walt Disney World, which to be fair does host a pretty good party, and is certainly the place to go if it's fireworks you're looking for, but away from the big theme park there is still plenty other things the area has to offer.
Orlando also has the distinction of being named the best city to see in the new year by a Wallethub survey that compared factors including cost, fireworks and weather, a worthy accolade for an often under-rated city.
New Year Fireworks, Events, Parties
If you're in Orlando for new year's eve 2017-2018 and insist on seeing some fireworks at midnight then you may as well head to Walt Disney World whether you have children with you or not, as they have by far the biggest and best displays in the area. See all the very latest on this new year's eve at Disneyworld here:
Walt Disney World new year's eve
Elsewhere though there are plenty of other offerings. One enduringly popular venue is of course the Universal Orlando Resort, where the iconic Universal CityWalk holds a party with live music and entertainment across all of it's nightclubs.
The new year party at Universal CityWalk Orlando is entitled EVE and includes:
Coca Cola LED Experience wristbands
6 CityWalk clubs
Unlimited gourmet cuisine
Huge outdoor dance floor with live music acts
Midnight champagne toast
Fireworks display
For such a huge event the prices are actually pretty reasonable, but you do of course need to make sure you reserve your place well in advance. You can buy tickets online here.
For comedy fans there's a big coup for Orlando this new year, with Kevin Hart in town, performing his stand up show live on new year's eve at the CFE Arena - you can buy tickets online here.
There is also a big party at SeaWorld, where the Wintry Wonderland that represents the resort's Christmas celebration is extended to take in new year's eve, where there will be music from live DJs and a midnight countdown on the waterfront, capped with a big fireworks display. There are of course now no more performing orcas at this location, an excellent decision in my opinion.
Away from the theme parks, Orlando has an excellent range of bars and nightclubs that are often overlooked, but will certainly be holding their share of parties too. Top venues include The Ballroom at Church Street, Ice Bar, Citrus Club, Cuba Libre and The House of Blues. Ticket details to follow.
Mango's Tropical Cafe Orlando is also hosting a New Year's Eve Extravaganza this year, with gourmet food, live entertainment, dancing and several VIP options.
In nearby Sanford there's a Midnight Masquerade New Year's Eve Celebration taking place at the Route 46 Entertainment District - get more details and book your tickets online here.
For those looking for a quieter evening, or maybe to fuel up before hitting the clubs, then the restaurant scene in Orlando is extensive and varied. They like a good steak here, and The Bull and Bear Steakhouse is always popular, while international choices include Ceviche Tapas, Roy's Hawaiian Fusion and the Olive Garden. Browse the full range of Orlando eateries here.
NYE Live Streaming, Webcams
Places to watch live online - a lot of these webcams are at Disney World, which is probably fair enough as that's where the main fireworks are, but there are also live views from Universal and Downtown Orlando
New Years Eve Hotels
If you're planning on visiting Orlando over the New Year period, then you will be spoiled for choice, but be warned it can be a little pricey in the holiday season and as always early reservation is strongly recommended - you're unlikely to pick up late deals here - find the best local hotels here
Popular Pages
The content on this page is written and maintained by Martin Kerrigan. If you have found it useful then please feel free to share it with your friends and family. If you have any comments or events to add to this page please Contact us.