Seattle New Years Eve 2018
Fireworks, Live Stream, TV Coverage, Events, Parties, Hotels
Seattle, Washington, 31 December 2017, Midnight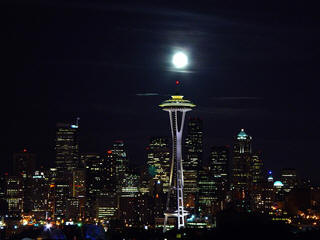 Seattle on new year's eve has a great range of things to do with many great parties and events, but by far the most popular and well known has to be the new year's eve fireworks display from the city's iconic Space Needle, a sight that dominates the skyline of this great coastal city.
On new year's eve the Space Needle fireworks can be viewed for miles around and getting outside to watch them is the focal point of many other parties too. if you're not fortunate to be in Seattle for new year then there is even the chance to watch the fabulous midnight show live online via online streaming and some well positioned webcams.
Things to do
The main event is obviously the big public fireworks display from Seattle's iconic Space Needle, one of the biggest and most spectacular displays anywhere in the United States.
The midnight fireworks at the Needle dominate the skies and can be seen for miles around, with the best outdoors viewing points out in Kerry Park, where there are fantastic panoramic views of the city - it does get crowded though, so be sure to get there early.
This year is the return of an event now known as T-Mobile New Years at the Needle, and the 8 minute display will be preceded by the Space Needle being lit up throughout December 30th and 31st
For a literal birds eye view you can usually spend new year's eve in the Space Needle itself, have a new year dinner in the SkyCity Restaurant then take in the fireworks from the observation deck, where there will be music and a champagne toast to help mark the occasion. Please note: The Space Needle, including SkyCity, is currently undergoing renovation so won't be available for NYE2018 - should be back bigger and better next year though!
Another great new year party in Seattle this year, that also affords great views of the Space Needle fireworks is SPECTRA 2018: New Year's Eve Under the Arches. This takes place at the Pacific Science Center and includes live entertainment with top DJs as well as fantastic live science exhibits and demonstrations. You get to see in the new year at midnight right under the iconic arches. Get more details and tickets online here.
The Seattle Center Winterfest continues right through to the new year and this year includes on new year's eve a free dance for all ages at the Seattle Center Armory, while the ice rink will also stay open late, until 11.30pm.
Another great way to secure one of the best views possible is to take to the water where an unobstructed view is guaranteed - Seattle has a maritime setting with lakes Union and Washington on one side and the ocean on the other. The Argosy Cruises take place throughout the year, and on new year's eve they position themselves in the middle of Elliott Bay for the best view you can get. The cruise departs from the famous Pier 55 on the waterfront.
More classical musical diversions are provided by the Seattle Symphony Orchestra, performing at 9pm on December 31st at the S. Mark Taper Foundation Auditorium in Benaroya Hall. Performance details and ticket sales to follow.
Another big new year party in town is the annual Indulgence at The EMP Museum, returning to welcome 2018. This is a party on a truly epic scale, taking place over 140,000 square feet and including 4 live entertainment areas, 25 different bars, 3 performance stages, a live comedy theatre and a sound and lighting system that promises, among other hi-tech features, the largest LED screen in the world. The venue is also perfectly positioned right underneath the Space Needle too, so you can head outside at midnight to watch the fireworks before returning to the rest of the party.
An excellent resource for detailed party listings in the bars, clubs and resturants can be found at Seattle Pipeline, featuring a reange of new year events as diverse as club nights, new year day hikes and traditonal New Year's Day Polar Bear plunges!
For your new year dining options, Seattle has plenty to offer too, with an eclectic range of local and international cuisines available from around 3,000 different establishments! Top choices include Paseo Caribbean, Wild Ginger, Japonessa Sushi Cocina, Cafe Champagne, Palomino, Pike Place Chowder and the cajun and creole delights at Toulouse Petit - check out all the local restaurants online here.
NYE Live Streaming, Webcams
The range of live coverage of the Seattle Space Needle new year's eve fireworks display, both on television and online has increased markedly over the last few years, meaning it is now possible to watch a live stream wherever you are.
There is live TV coverage via local channels that also offer an online webcast option as well as excellent and ideally positioned webcam views, including skyline streaming cameras that have the Space Needle right in shot:
Seattle fireworks live streaming
New Years Eve Hotels
Places to stay - Seattle has a huge range of hotels across a very wide price range, and is especially proud of it's large range of 5 star offerings. although those on a stricter budget should find plenty to tempt them too.
Hotels with Space Needle view rooms for the fireworks include the Pan Pacific, Seattle Westin, Edgewater Hotel and the Holiday Inn - be sure to specify you would like a view when making your reservation.
The Inn at the Market at the famous Pike Place market is also highly recommended, offering views of the Seattle waterfront and the Puget Sound.
You can search for deals at all of these venues, plus other local hotels here.
Popular Pages
The content on this page is written and maintained by Martin Kerrigan. If you have found it useful then please feel free to share it with your friends and family. If you have any comments or events to add to this page please Contact us.