Seattle New Year Fireworks 2019 Live Stream
Watch Online Webcast Feed, TV, Webcams, Streaming
Space Needle, Seattle, 31 December 2018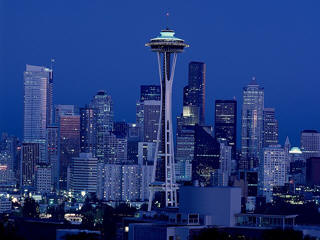 The spectacular new year's eve fireworks from the Space Needle in Seattle are some of the mosr popular anywhere in the world, and as one of the last major cities to greet the new year tend to attract many people to watch them, both on TV and online.
Fortunately the range of viewing options has expanded greatly in recent years, meaning you can watch the Space Needle fireworks live form the comfort of you own home, via TV coverage with associated webcast, live online streaming or one of the excellent webcam views.
The Space Needle is undergoing maintenance work on new year's eve 2018/18 but that shouldn't impact on the quaility of the NYE fireworks show.
TV and Live Streaming
The fireworks are usually broadcast on local TV (KING-5 TV) and radio (90.3FM) stations too, so if you can get to a TV or radio in the local area then they are the stations to look out for.
Last year the King5 coverage was also available on the link below to watch as a live online webcast, we will to check it is still working for this year (and update as required of course)
Webcams
There are some webcam views in ideal positions to watch the Seattle new year's eve fireworks, including a skyline view that includes the Space Needle, as well as a close up view of the needle:
There is also a panoramic view of a live interactive camera that is actually positioned on top of the space Needle itself - although this obviously doesn't do you any good in terms of watching the fireworks it does allow
It's worth a look pretty much any time to be honest, a genuinely spectacular view from such an iconic monument:
Latest NYE News
The content on this page is written and maintained by Martin Kerrigan. If you have found it useful then please feel free to share it with your friends and family. If you have any comments or events to add to this page please Contact us.