Paris New Years Eve 2018
Fireworks, Events, Parties, Hotels, Restaurants, Concerts
Paris, France, 31 December 2017, Midnight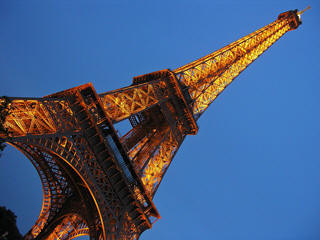 New year's eve in Paris is a colourful and hugely popular affair, drawing crowds from all around the world to see in the new year in this most spectacular of settings.
The main celebrations tend to be concentrated around the iconic Eiffel Tower and Champs Elysees areas of the city, although the more traditional fireworks have in recent years been replaced by a spectacular light show, with only minimal actual pyrotechnics to herald the arrival of the new year.
I have been in Paris for new year in the past and can confirm it is a fabulous, if slightly manic and bewildering event (especially if your French isn't brilliant and you are somewhat protective of your personal space!) One thing that's for sure it's a pricey venue, and anywhere decent will be booked up months in advance, so decide on your plan of new years eve things to do and get your tickets and travel plans made asap!
Another relatively recent addition to the Paris new year celebrations is the Paris new year parade, which travels along the Champs Elysees from the Place de la Concorde to the Arc de Triomphe, then back again along the other side, starting at around 2pm on new year's day - see here for more details: Paris new year parade
New Year Fireworks, Events, Parties
Paris is renowned as being one of the top New Year's tourist destinations anywhere in the world. Popular destinations across the city include The Moulin Rouge (see show details below), Eiffel Tower, Champs Elysees, Trocadero and Sacre Coeur, and the crowds in these areas will very much reflect that popularity, so our top new year recommendation for Paris has to be to make sure you plan for the evening in plenty of time and make sure you have the time and means to get where you need to be, plus of course any tickets that may be required for particular venues.
The Sacre Coeur Cathedral plaza in Montmartre is a popular viewing spot, giving a panoramic view across the city skyline, where you can see any smaller fireworks displays that may be taking place and are only a short walk away from being able to see the Eiffel Tower in the distance too - try the Rue St-Eleuthere for an excellent vantage point.
There isn't an official municipal fireworks show these days, instead there's a light show at the Eiffel Tower at midnight, which will be accompanied by a short burst of fireworks come midnight, but nothing too spectacular.
There are also smaller, private fireworks across the city and indeed the wider Paris district throughout the evening. New Year's Eve is also the feast day of Saint Sylvester in France.
One of the most popular ways to see in the New Year is on the Seine where the boat parties and extravagant dinners on offer make for an incredible end to a year. If you want something more raucous you can head to the fantastic blues and jazz bars along the river banks or to one of the city's many clubs.
For those keen on partying hard as the clock strikes 12am, there's no better place to celebrate than the famous Champs-Elysees. On New Years Eve people will generally start to gather at around 9pm, armed of course with the requisite champagne bottles, plastic flute glasses and picnic bags. Popular bars in Paris for New Years Eve include Wake Up Paris, Flute l'Etoile, Cafe Cheri, Cantine de Belleville, le Mansart, Nouveau Casino, The WAGG, Rex, Point Ephemere and Mix Club.
There is an exclusive annual Gala dinner and show at the world famous Moulin Rouge, which for new years eve 2018 features the famous dancers in their fabulous costumes along with exquisite food and a bottle of champagne per person! It is quite a pricey event, but does promise to be a once in a lifetime experience.
For your new year dining options, then Paris is one city where the phrase spoiled for choice doesn't seem adequate, with over 10,000 eateries in the metropolitan area. With such a range it seems faintly ridiculous to pick our just a few choices, but we're going to give it a go anyway, so recommendations are Epicure, Bistrotters, La Tour d'Argent and Le Cinq.
Top vegan choice goes to Vegebowl, although for such a big city the options for us herbivores are quite limited, so catering for yourself is always an option. One good tip for city skyline and fireworks views is Ciel, which offers great views from the 56th floor of the Tour Montparnasse. See the full, vast, range of Paris Restaurants here.
NYE Live Streaming, Webcams
Places to watch live online, including live Eiffel Tower and Champs Elysees streams:
New Years Eve Hotels
Paris has some of the best hotels in the world, which means that over the New Year the whole city is exceptionally popular as you might expect, so if you're planning on staying here then making an early reservation is very strongly recommended, and be prepared to pay a premium price - click here for the best Paris hotel deals.
Popular Pages
The content on this page is written and maintained by Martin Kerrigan. If you have found it useful then please feel free to share it with your friends and family. If you have any comments or events to add to this page please Contact us.