Paris New Year's Eve 2019
New year's eve in Paris; Champs Elysees party, fireworks, fine dining & river cruises for NYE 2018-2019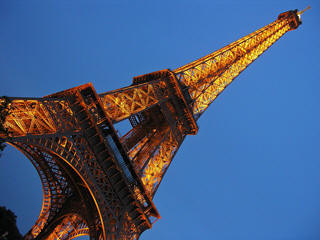 Paris on new years eve sees huge crowds head down to gather on the city's iconic Champs Elysees for a new year party on a grand scale, with the highlight of the party being the spectacular light show and fireworks launched from the Eiffel Tower, a fitting centre piece to the celebrations.
Across the whole Paris area there are a vast range of parties and events taking place to mark the occasion, with world famous sites such as the famous Moulin Rouge hosting their own new years eve surprises, while many choose to take to the Seine to see in the new year 2019 with a river cruise.
New Year's Eve on the Champs Elysees
The fireworks at the Eiffel Tower that were a central part of the new years eve celebrations in Paris for so many years have now been replaced by a light show, a more ecologically friendly alternative, although don't be surprised if they throw in a few good old fashioned pyrotechnics as part of the display too.
The Champs Elysees Grand Parade will be filled with crowds throughout the evening, with live music and entertainment getting underway from around 9pm, helping keep people warm as they wait for midnight to arrive.
If you prefer to avoid the crowds and would like more panoramic view of the party, then many people also choose to head up to the The Sacre Coeur Cathedral plaza in Montmartre, where you will also have a view of smaller scale fireworks displays bursting across the horizon - try wandering around the cathedral to the Rue St-Eleuthere to find an excellent vantage point.
NYE River Cruises
There are many river cruise options to see in the new year on the Seine, usually with a gala dinner and live entertainment provided to make for a truly memorbale new year party.
One of the top options is typically the Orsay Cruise and Bateaux Mouches - we will bring you links to our favourite new year's eve cruise options once the details are finalised nearer the time.
Moulin Rouge New Year's Eve
The Moulin Rouge New Year's Eve Special "Soirée Plaisir" is an iconic event that has bneen taking place for many years now, and while not cheap, makes for a genuinely special night, including dinner, dancing and champagne, plus of course a show by the famous dancers of the Moulin Rouge. There is also a surprise gift for everyone! Ticket details to follow.
Nightclubs
Popular nightspots to spend new years eve in Paris include La Palmeraie, Club Haussman, Chez Papillon, Les Planches, Palais de Tokyo and L'Aquarium
If you want to be right at the centre of the action then Pavillon Champs Elysees host a new year party that continues right through until 5am on new year's day and includes a huge dance floor, gourmet cocktail buffet, VIP areas and of course one of the best loocations in town.
Ticket details to follow.
New Year's Eve Hotels
There are of course many top hotels in Paris, and many host their own new year parties and gala events, offering special packages to attract visitors.
Location is all if you want to avoid the inconvenience of negotiating new years eve public transport or paying elevated taxi fees, so look if you can for central hotels, such as the Hotel Duquesne Eiffel or the Hotel de France.
If you're planning on staying in Paris over new years then as always the advice is to book well in advance and to be prepared to pay a premium for the privilege - click here for the best Paris hotel deals.
New Year Restaurants
Paris is of course a fine diner's paradise so finding somewhere for your new year's eve dinner is more an embarrasment of riches than a dilemma.
If you're looking for something truly out if the ordinary then check out Bistro Parisien, located on the banks of the Seine and very close to the Eiffel Tower, They even offer a new year dining option that includes an hour long river cruise.
If you like a historic venue, something to really add an authentic atmosphere to your night, then we can recommend Nos Ancêtres les Gaulois, a famous medieval eatery in Ile Saint-Louis.
Top vegan choice goes to Vegebowl, although for such a big city the options for us herbivores are quite limited, so catering for yourself is always an option. Another good tip for a restaurant with city skyline and fireworks views is Ciel, which offers great views from the 56th floor of the Tour Montparnasse. See the full, vast, range of Paris Restaurants here.
NYE Live Stream
We will track down some TV coverage of the Eiffel Tower new years eve show nearer the time, but in the meantime you are well served by the excellent live webcam views from this iconic site:
Latest NYE News
The content on this page is written and maintained by Martin Kerrigan. If you have found it useful then please feel free to share it with your friends and family. If you have any comments or events to add to this page please Contact us.