Milwaukee New Years Eve 2019
Fireworks, Events, Parties, Hotels, Restaurants, Concerts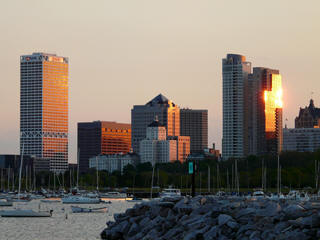 Milwaukee is another potential new year's eve destination in an ideal location for the wintry weather and seasonal snowscapes that for many people are an essential ingredient of the festive season.
Located on the shores of Lake Michigan, if you were looking at a map you may be tempted to head down to Chicago for the big new year party on the Navy Pier, but for those who stick around the Wisconsin side of the state line you will find that Milwaukee has plenty to offer itself.
A fairly large city, with a population over well over half a million there is plenty going on in Milwaukee throughout the Christmas and new year period. If you are going to be in town then it would be remiss not to mention some of the other main attractions worth making time for, in particular the Milwaukee Public Museum, the Pabst Mansion and the Harley-Davidson Museum.
Things to do
The main public party in Milwaukee on new year's eve takes place at the city's Red Arrow park, where a seasonal skating rink provides one of the main attractions and helps top guarantee that there always a decent crowd in attendance.
This had also frequently been the venue for a big fireworks display at midnight, but be warned that this has been cancelled at shot notice in the past and as yet we have no confirmation as to whether they'll be returning for 2019 so watch this space and we'll update any news as soon as we get it.
Prior to heading to the Red Arrow party, many people, especially those with families, head off to the Mitchell Park Horticultural Conservatory, known locally as The Domes, where a New Year's Eve Family Celebration takes place in the earlier part of the evening offering a wide range of kids' entertainment culminating in a balloon drop at around 9pm. Tickets for this event can be bought online but it's usually OK to pay on the gate too
Elsewhere, the various bars, clubs and restaurants in Milwaukee proper offer an extravagant range of parties to choose from.
One Milwaukee new year tradition that is not for the faint hearted is the annual Polar Bear Plunge, which takes place at Bradford Beach at noon on new year's day, the 1st January 2019. This is free event and you don't need to register in advance, just turn up along with the other hardy souls and fling yourself in there!
If you prefer a quieter setting for your new year party, or just require a good feed prior to hitting the town then the restaurants of Milwaukee have plenty to offer, with a wide range of international options. Top venues include the Envoy Restaurant, Sanford and Bartolotta's Lake Park Bistro. For vegetarian and vegan options you won't got far wrong at The Odd Duck or the Karma Bar and Grille. See the full range of available eateries here.
NYE Live Streaming, Webcams
Places to watch live online: there are some great webcam views in good positions across Milwaukee, giving you the chance to check in on the city throughout new year's eve, and maybe even catch a glimpse of some fireworks come midnight:
New Years Eve Hotels
Milwaukee's hotel industry is busy and thriving, and with many people in town for family get-togethers and winter sports over the festive season we advise you get your spot selected and booked as far in advance as is practicable. For availability and reservations you can check and book local hotels here.
Latest NYE News
The content on this page is written and maintained by Martin Kerrigan. If you have found it useful then please feel free to share it with your friends and family. If you have any comments or events to add to this page please Contact us.