Chicago New Year's Eve 2019
Guide to new year in Chicago; top fireworks, parties, cruises and hotels for NYE 2018-2019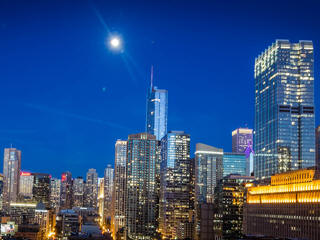 Chicago on new year's eve hosts a fantastic fireworks display at the city's famous Navy Pier and across the city the many top bars, restaurants and hotels hold a great range of NYE parties.
They did have a good go at starting their own signature new year event with the Chi Town Rising party a couple of years ago, and although that didn't take off there are no shortage of alternatives on offer.
The maritime setting of Chicago on the shore of Lake Michigan, with the Chicago River running through it means welcoming the new year out on the water is another extremely popular option, with a wide range of cruise events to choose from.
Navy Pier Fireworks
As with most big US cities, Chicago likes to see in the new year with a spectacular fireworks display at midnight, and with the city's location has an ideal setting for a fabulous show over the water, with views available from vantage points all along the lake shoreline.
Navy Pier is no stranger to fireworks, they host twice-weekly displays here throughout the summer, but the new year's eve show is the biggest and most spectacular, with the display also being set to music to enhance the dramatic effect.
Winter Wonderfest
If you're heading down to Navy Pier on new year's eve then you can make a day of it by visiting the Chicago Winter Wonderfest, an indoor winter carnival that takes place throughout the festive season each year and includes fairground rides, ice skating, food and drink and plenty of family friendly entertainment.
You can get the full event schedule and buy tickets online here.
Chicago Resolution Gala
If you're looking for an option where you get to watch the fireworks without having to spend all evening standing out in the freezing cold then the Chicago Resolution Gala might well be for you.
This party is hosted in the Navy Pier Grand Ballroom and includes drinks from over 30 bars, gourmet buffet and entertainment from live DJs. You also get access to the Lakeview Terrace, with a front row view of the fireworks come midnight.
There are general sale and VIP options available, we'll have the link for this year's tickets as soon as they're released.
Crystal Gardens New Year's Eve
Still at Navy Pier, the Crystal Gardens new year's eve party has been taking place each year for over a decade, and continues to be just as popular.
This event offers more than 20 premium bars, music from top DJs, a variety of food stations and also has a private terrace from which you can watch the fireworks.
Ticket details to follow.
Big Night Chicago
The Big Night Chicago returns once again this new year's eve, one of the most popular parties in town this event takes place at the Congress Plaza Hotel and is spread across multiple party rooms and dance floors with food and drinks from several bars included. Entertainment is provided by live bands, DJs and special guest acts.
You can buy your tickets online for this event here.
Mystic Blue Fireworks Cruise
Taking to the water on new year's eve is always a popular option in Chicago, offering an escape from the crowds while you still get to see an uninterrupted view of the fireworks. Mystic Blue host a new year fireworks cruise that includes dinner, drinks and entertainment, with champagne at midnight.
Reserve your place online here.
Odyssey Chicago NYE Fireworks Dinner
Odyssey Chicago are another option for an new year cruise - their New Year's Eve Fireworks Dinner offers a special plated dinner menu, top DJ and entertainment, permium bar and champagne at midnight.
The cruise boards from 8.30m and doesn't come back until after midnight, get your tickets online here.
New Year's Eve Hotels
Chicago's top hotels host a great selection of new year's eve parties, with gala dinners and entertainment typically included in accommodation packages to cover all your new year requirement in one place.
Some of the best venues and parties to check out include:
Hilton Chicago New Year's Eve Soiree
JW Marriott New Year's Eve Party
Drake Hotel Chicago Scene Party
NYE at Hard Rock Hotel
You can make your reservation at these and all of the top local hotels here.
Live Stream, Webcams
Chicago's new year's eve celebrations are covered on local TV station ABC7, with a popular annual show called Countdown Chicago. You can watch this online on their live stream:
There is also the option to check out some of the local live webcams, there are lake and skyline streams available:
Latest NYE News
The content on this page is written and maintained by Martin Kerrigan. If you have found it useful then please feel free to share it with your friends and family. If you have any comments or events to add to this page please Contact us.