Chicago New Years Eve 2019
Fireworks, Live Stream, Events Parties, Hotels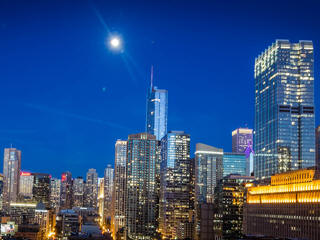 The latest news from Chicago for new year's eve 2019 is that the Chi Town Rising party that has been the focus of the celebrations for the last couple of years will NOT be returning for this new year celebration.
Chicago will still be hosting plenty of other New Years Eve events across the city though, with fireworks displays chiefly focusing on the river, and traditionally centred around the city's famous Navy Pier area.
Elsewhere, the city's many hotels, bars and restaurants are packed with revellers as well as visitors from out of town, with many taking to the city streets at midnight to pass on their wishes and watch the various fireworks lighting up the Chicago sky.
Navy Pier Fireworks
The last couple of years had seen a new big new year's eve event in Chicago with the advent of the Chi Town Rising party, an aim to compete with more established venues such as New York's Times Square in providing a large scale, internationally renowned new year celebration.
However, Chi Town Rising is not returning again this year, which means the focus once again will be on the big fireworks display down at the Navy Pier, which is also the venue for some of Chicago's biggest, longest running and most popular new years parties.
This year you can also enjoy the 2018-2019 Navy Pier Winter Wonderfest, offering a plethora of festive fun including ice skating, live entertainment, an express zip line, climbing wall, inflatable slide and loads more, this looks like an especially good idea for those families with children to entertain.
Big Night Chicago
A highly recommended party this new year's eve is the Big Night Chicago, taking place at the Palmer House Hilton and including all inclusive bars throughout the evening, food buffets, multiple dance floors and party rooms and 10 live bands and DJs. Get your tickets for this event asap as numbers are limted and they will sell out - online ticket sales here.
Chicago Resolution Gala
The Grand Ballroom at The Navy Pier will be hosting the annual Chicago Resolution Gala, which also provides access to the fantastic views from the Lakeview Terrace, one of the best possible vantage points for watching the fireworks. The event includes premium open bar, stationed buffet and of course champagne at midnight.
REACTion New Years Eve
For live music fans the big party this new year looks to be REACTion New Year's Eve, an event at the Aragon Ballroom. Get your tickets here.
Mystic Blue Fireworks Cruise
Another option many take up to capitalise on the city's maritime setting is to take a cruise, giving you the opportunity to guarantee yourself an unobstructed vantage point for viewing the fireworks. Most of the local cruise companies have new year's eve special offers, I really like the look of the Mystic Blue fireworks & dinner cruise which includes a premium bar package and fabulous looking menu.
Odyssey Chicago NYE Fireworks Dinner
Other cruise offerings that are available in Chicago this new year include the Odyssey Chicago NYE Fireworks Dinner, which includes a DJ, dinner, a premium bar package, champagne toast and fireworks from Navy Pier at midnight.
Spirit of Chicago Fireworks Cruises
Another very popular cruise option, with a selection of options rthat come complete with dining options, premium open bar, champagne toast at midnight. The full cruise range for new year 2019 includes:
Chicago NYE fireworks dinner cruise at Navy Pier
Spirit of Chicago fireworks dinner cruise
Spirit of Chicago new years eve family lunch cruise
Restaurants
If you just want a relatively quieter (and more affordable!) night out then the city's restaurants will be hosting a variety of parties to cater for most budgets. I like the look of MK Chicago as it has my initials, but there are offerings available for all cuisines - check out the Chicago restaurant guide for more details and to make online reservations.
Live Streaming, Webcams
The best coverage from Chicago on new years eve is typically provided by the long running Countdown Chicago broadcast on ABC7, hosted by the ever-popular Janet Davies and Mark Giangreco - you can watch this one on their live stream here:
Places to watch live online on local webcams, including some excellent views of the Chicago city skyline:
New Years Eve Hotels
There is a huge range of accommodation in Chicago for you new year's eve break, with most budgets catered for. This year a good topical choice might be the Trump International Hotel and Tower while we can also recommend the Cambria Hotel and Suites Chicago Magnificent Mile or the Wyndham Grand Chicago Riverfront.
For the full range of hotels, guest houses and apartments in Chicago, and to make your reservation online, visit: local hotels here.
Latest NYE News
The content on this page is written and maintained by Martin Kerrigan. If you have found it useful then please feel free to share it with your friends and family. If you have any comments or events to add to this page please Contact us.